Key indicators tracked by NBER Business Cycle Dating Committee (BCDC) show mixed behavior; income (ex-transfers) declines. So too does consumption.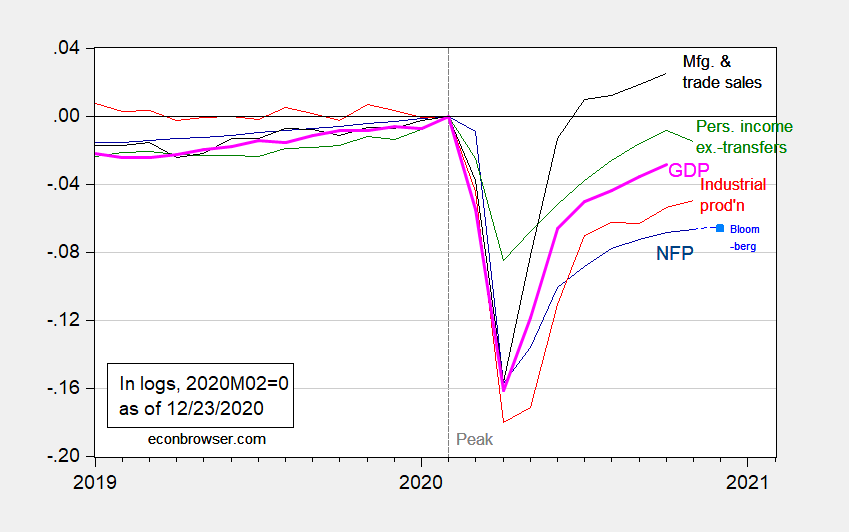 Figure 1: Nonfarm payroll employment (dark blue), Bloomberg consensus for employment as of 12/23 (light blue square), industrial production (red),  personal income excluding transfers in Ch.2012$ (green), manufacturing and trade sales in Ch.2012$ (black), and monthly GDP in Ch.2012$ (pink), all log normalized to 2020M02=0. Source: BLS, Federal Reserve, BEA, via FRED, IHS Markit (nee Macroeconomic Advisers) (12/1 release), NBER, Bloomberg, and author's calculations.
The Bloomberg consensus for nonfarm payroll employment for December is for an increase of only 100,000.
Spending declines — both retail and food services sales as well as consumption.
Figure 2: Personal consumption expenditure, in Ch.2012$ (blue), retail and food sales in 1982-84$ (brown), both s.a., in logs 2020M02=0. Source: BEA, FRED, and author's calculations.
University of Michigan's Consumer Sentiment Index declined as well.
Figure 3: University of Michigan Consumer Sentiment Index. 
Clearly this is a precarious point in the economy's recovery. Perfect time to screw up a fiscal recovery package…