With the release of the IHS Markit (nee Macroeconomic Advisers) monthly GDP, key indicators tracked by NBER Business Cycle Dating Committee (BCDC) continue to show mixed behavior. Monthly GDP declined in November (joining personal income ex.-transfers in decline):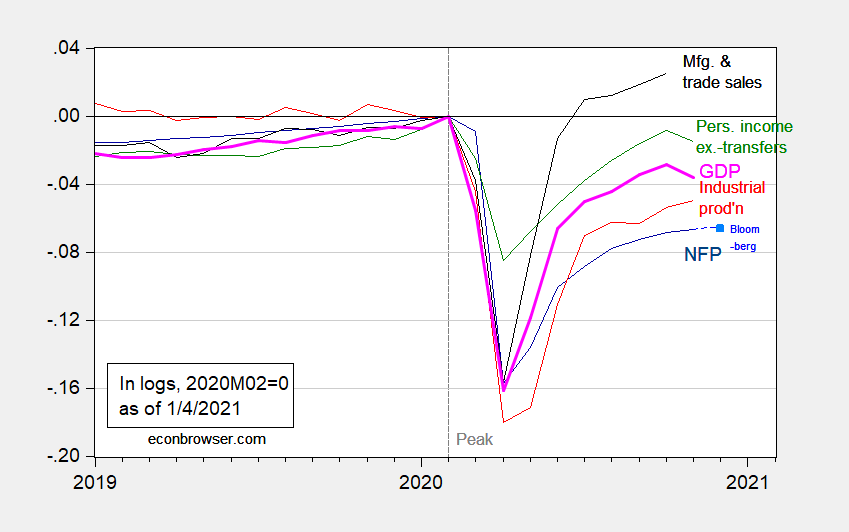 Figure 1: Nonfarm payroll employment (dark blue), Bloomberg consensus for employment as of 1/4/2021 (light blue square), industrial production (red),  personal income excluding transfers in Ch.2012$ (green), manufacturing and trade sales in Ch.2012$ (black), and monthly GDP in Ch.2012$ (pink), all log normalized to 2020M02=0. Source: BLS, Federal Reserve, BEA, via FRED, IHS Markit (nee Macroeconomic Advisers) (1/4/2021 release), NBER, Bloomberg, and author's calculations.
The Bloomberg consensus for nonfarm payroll employment for December is for an increase of only 100,000 (that was true when I last checked as well – 12/23).
IHS Markit notes:
Monthly GDP declined 0.8% in November following a 0.6% increase in October that was revised lower by 0.1 percentage point. The decline in November was the first so far in the recovery and reflected declines in personal consumption expenditures, nonresidential fixed investment, net exports, and nonfarm inventory investment. There were partially offsetting increases in residential investment and the portion of monthly GDP not covered by the monthly source data.
NY Fed nowcast as of 12/31 is for 2.1% in Q4, and Atlanta Fed GDPNow as of 1/4 is for 8.6%. The IHS Markit forecast as of today is 3.0%, implying a further 0.4% (nonannualized) decline in December.
So, some of the worries I mentioned in this December 3rd post seem to come to pass.