Here's a time series of the real minimum wage, under the Sanders proposal.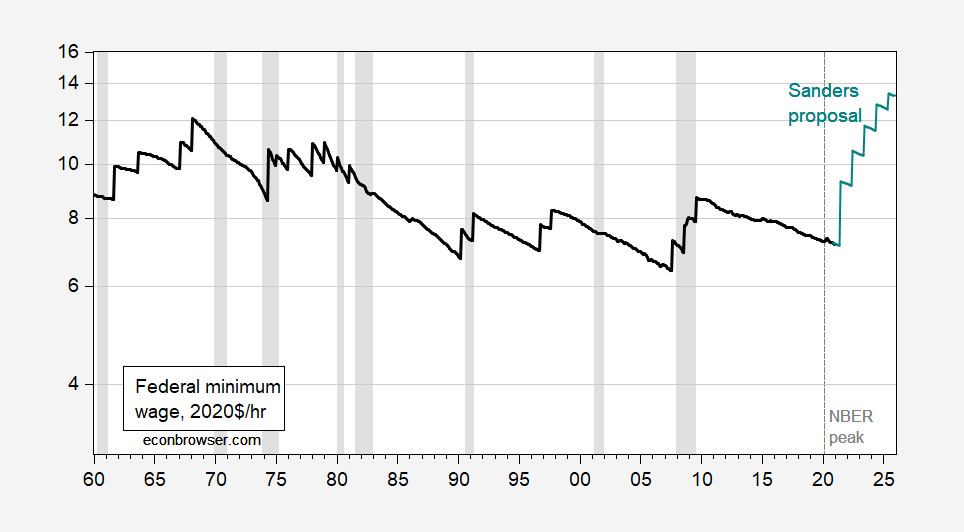 Figure 1: Federal minimum wage deflated by CPI (black), and proposed minimum wage under S.53, divided by CBO projected CPI (teal), all in 2020$. NBER defined recession dates and NBER peak shaded gray. Quarterly CBO CPI projections interpolated by quadratic match. Source: BLS, CBO, NBER, author's calculations.
Today, CBO released its assessment of the impact of such legislation:
If enacted at the end of March 2021, the Raise the Wage Act of 2021 (S. 53, as introduced on
January 26, 2021) would raise the federal minimum wage, in annual increments, to $15 per hour by June 2025 and then adjust it to increase at the same rate as median hourly wages. In this report, the Congressional Budget Office estimates the bill's effects on the federal budget.

…

Underlying the budgetary estimates are CBO's projections of how pay would change for people directly or potentially affected by an increase in the minimum wage—that is, people who would otherwise have been paid hourly wages that were less than the proposed new minimum or slightly above it—and how changes in pay would affect the number of people employed.

From 2021 to 2031, the cumulative pay of affected people would increase, on net, by
$333 billion—an increased labor cost for firms considerably larger than the net effect on the budget deficit during that period.
That net increase would result from higher pay ($509 billion) for people who were employed at higher hourly wages under the bill, offset by lower pay ($175 billion) because of reduced employment under the bill.

In an average week in 2025, the year when the minimum wage would reach $15 per hour, 17 million workers whose wages would otherwise be below $15 per hour would be directly affected, and many of the 10 million workers whose wages would otherwise be slightly above that wage rate would also be affected. At that time, the effects on workers and their families would include the following:

Employment would be reduced by 1.4 million workers, or 0.9 percent, according to CBO's
average estimate; and
The number of people in poverty would be reduced by 0.9 million.
Arindrajit Dube critiques. So too does EPI.
Recent survey of literature on minimum wage, here.
Addendum, 2/10 noon Pacific:
Goldman Sach (Nicolae/Mericle/Phillips on 2/8) notes that some portions of the country have raised the minimum wage already, so that the impact of Sanders legislation on the effective minimum wage is smaller than depicted in Figure 1.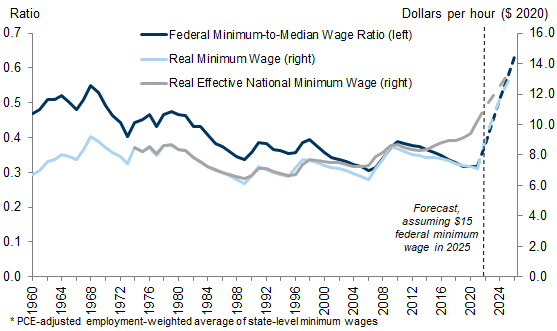 The nationwide effective minimum wage is already around $11.