Surveys indicate some acceleration, vis a vis last month.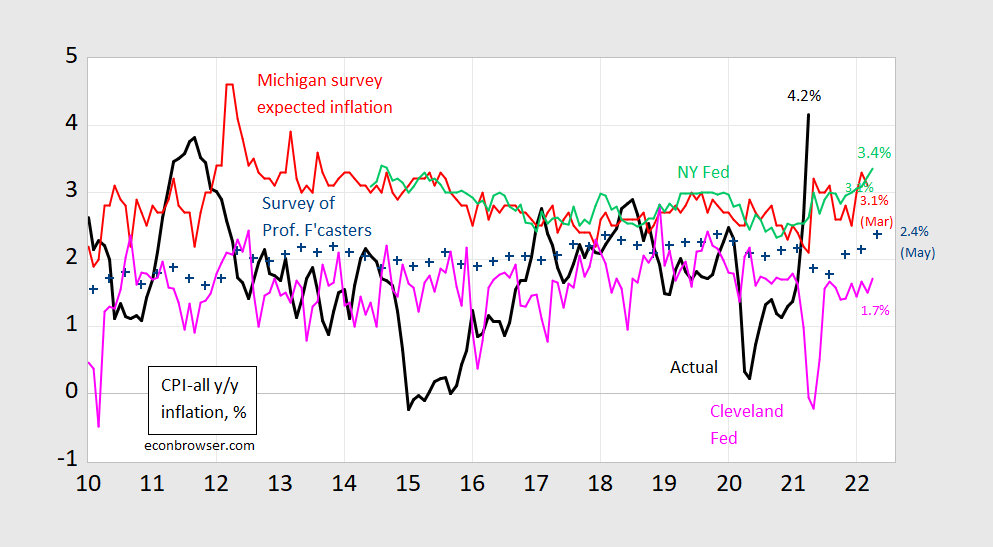 Figure 1: CPI inflation year-on-year (black), median expected from Survey of Professional Forecasters (blue +), median expected from Michigan Survey of Consumers (red), median from NY Fed Survey of Consumer Expectations (light green), forecast from Cleveland Fed (pink). Source: BLS, University of Michigan via FRED, Philadelphia Fed Survey of Professional Forecasters, Philadelphia Fed, NY Fed, and Cleveland Fed.
While economists' and household views of CPI inflation over the next year have risen, the economists' median estimate remains lower, at 2.37% in May, up from 2.15% in February.
Why might short term expected inflation (i.e., in one year) be higher than before? One can decompose things into constituent parts from the Phillips curve:
Where f is the slope of the Phillips curve, z is the cost-push component, a function of the growth rate of input prices.
Differences in the anticipated inflation rate can be attributed to differences in each part:

Hence, faster actual inflation over the next year could be because: (1) long term expected inflation could be higher, (2) the slope of the Phillips curve is steeper than thought,  (3) The output gap is expected to be bigger than previously anticipated, or (4) cost-push shocks, z (oil, input prices rising) are larger.
For longer term expectations, one can refer to market based measures – here at the five year horizon.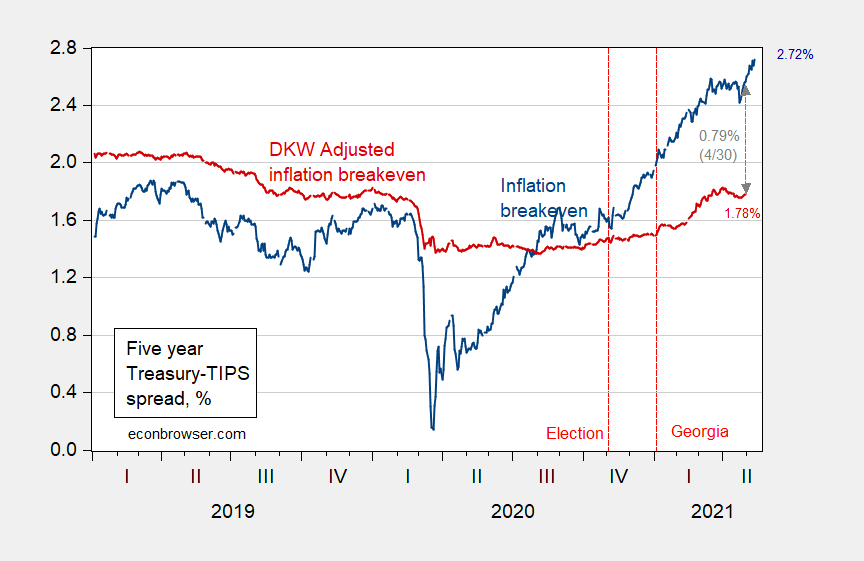 Figure 2: Five year inflation breakeven calculated as five year Treasury yield minus five year TIPS yield (blue), five year breakeven adjusted by term premium and liquidity premium per DKW, all in %. Source: FRB via FRED, KWW following D'amico, Kim and Wei (DKW) accessed 5/5, and author's calculations. [updated 5/19 11:50am Pacific]
While there has been an increase in long term expected inflation as indicated by a simple break-even calculation — about 1 percentage point from the election to end-April; the adjusted series shows a much smaller increase — a 40 bps increase.
From mid-February to end-April, the increase as been 20 bps. Similarly, the Survey of Professional Forecasters has raised the 2021-25 headline CPI inflation rate by 20 bps, from 2.20% to 2.40%, going from February to May.
Hence, in principle, the acceleration could be accounted for by a higher expected long term inflation rate, without appeal to fears of overheating, belief in steeper Phillips curve, or more cost-push shocks.