The Bureau of Economic Analysis announced today that seasonally adjusted U.S. real GDP grew at a 6.5% annual rate in the second quarter. That's well above the 3.1% average growth that the U.S. experienced over 1947-2019. Kudos to Federal Reserve Bank of Atlanta economist Patrick Higgins, whose nowcast of 6.4% that Menzie highlighted yesterday anticipated today's release on the nose.

The Q2 growth puts the level of GDP at a new high, 0.8% above the peak that was reached in 2019:Q4 before the COVID recession began.
The new data put the
Econbrowser recession indicator index
at 0.2%, historically a very low value. The number posted today (0.2%) is an assessment of the situation of the economy in the previous quarter (namely 2021:Q1), where we use the additional quarter to allow for data revisions and to gain better precision. This index provides an automatic procedure that we have been implementing for 15 years for assigning dates for the first and last quarters of economic recessions. As we announced on
January 28
, the COVID recession ended in the second quarter of 2020. The NBER Business Cycle Dating Committee subsequently made the same announcement on
July 19
.
In terms of the breakdown of the Q2 GDP numbers, consumption spending, spurred by fiscal stimulus payments, led the way. It was a little disappointing to see residential fixed investment (which comes from construction of new homes) actually falling in Q2. The monetary stimulus from low interest rates has succeeded in spurring higher prices for homes. Tobin's Q theory of investment predicts that this should stimulate new construction, boosting GDP through this mechanism.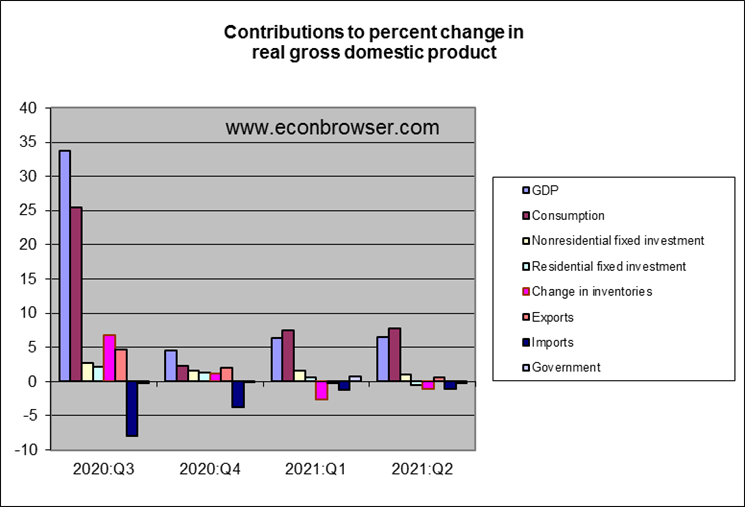 I have a new research paper in which I argue that potential GDP, which I define as the level of output that would result if wages and prices were perfectly flexible, depends not just on traditional factors such as available workers, the capital stock, and production technology, but also on the match between specialization in those factors and the configuration of product demands. I'm seeing numerous accounts consistent with the view that problems with supply rather than a shortfall of demand are a key factor holding back aggregate growth at the moment.