We hear a lot about how expansionary US policy has led to accelerated inflation. Is that inflation much faster than what occurred in other regions? Consider the US, Euro Area and UK 3 month annualized consumer inflation rates (calculated as log differences).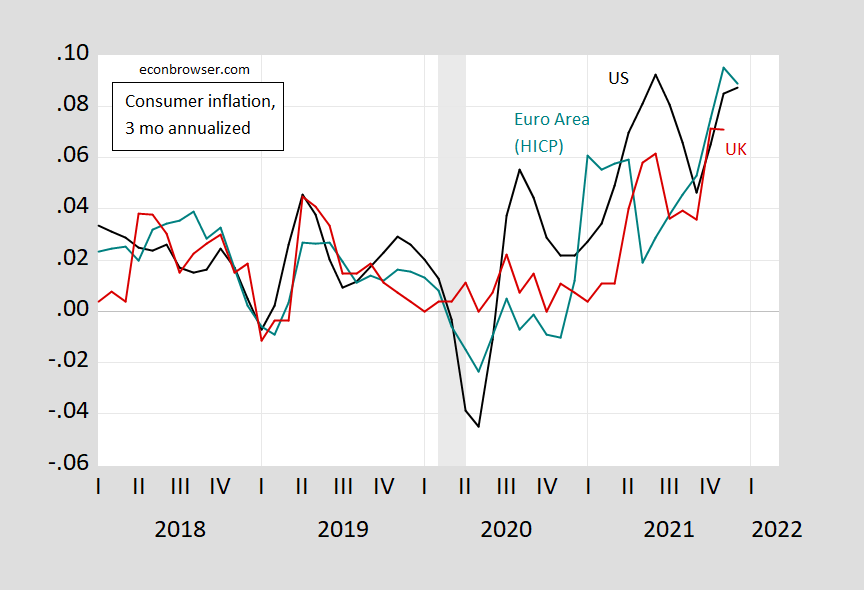 Figure 1: Three month annualized inflation rates for US CPI (black), Euro Area HICP (teal), and UK CPI (red). Euro Area HICP seasonally adjusted by author using geometric X-12 before calculating inflation rates. NBER defined recession dates peak-to-trough shaded gray. Source: BLS, Eurostat, ONS via FRED, NBER, and author's calculations.
US inflation has recently been higher than that in Euro Area and the UK. But has it been significantly so, either quantitatively or statistically? In order to answer this question, I examine the time difference in the difference between US and Euro Area (US and UK) inflation, going from pre- to post-covid periods. This is an application of the differences-in-differences approach.
Define the annualized month/month inflation difference US vs. country i:

Take this variable and run the following regression:

Where covidt is a dummy variable taking a value of 1 from 2020M02 onward.
The α coefficient is the pre-covid inflation differential between the US and country i; the β coefficient is the change in the inflation differential post-covid.
Using HAC robust standard errors, I find that the estimated β coefficient is 0.0028 for US-Euro Area (HAC robust standard error 0.018), and 0.0098 for US-UK (standard error 0.010). In neither case does the t-statistic for the null of zero on the β coefficient approach statistical significance at conventional levels.
So, while it's true US inflation accelerated a percentage point more than UK, and 0.3 percentage points more the Euro Area, the difference is not statistically significant.