The value of the ruble has returned to pre-invasion levels [1]. But what I am more concerned about is exchange market pressure. And there, we are at sea.
Exchange market pressure is variously measured, but is usually a weighted average of currency depreciation, reserves and (possibly) the policy rate, viz:
EMP = αΔs – βΔres + γΔi
Where α, β and γ are parameters that are typically the inverse of the variance of the associated variable, and res (foreign exchange reserves normalized by money base) and i might be relative to the core country (typically the US).
First the currency's value, over the last ten years: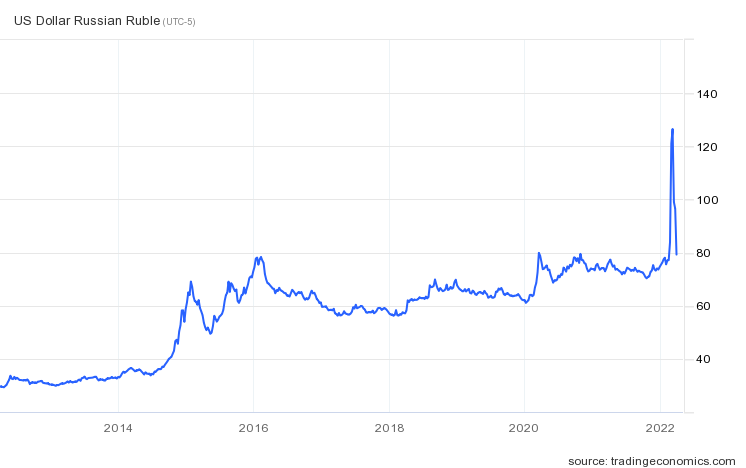 The policy rate we observe: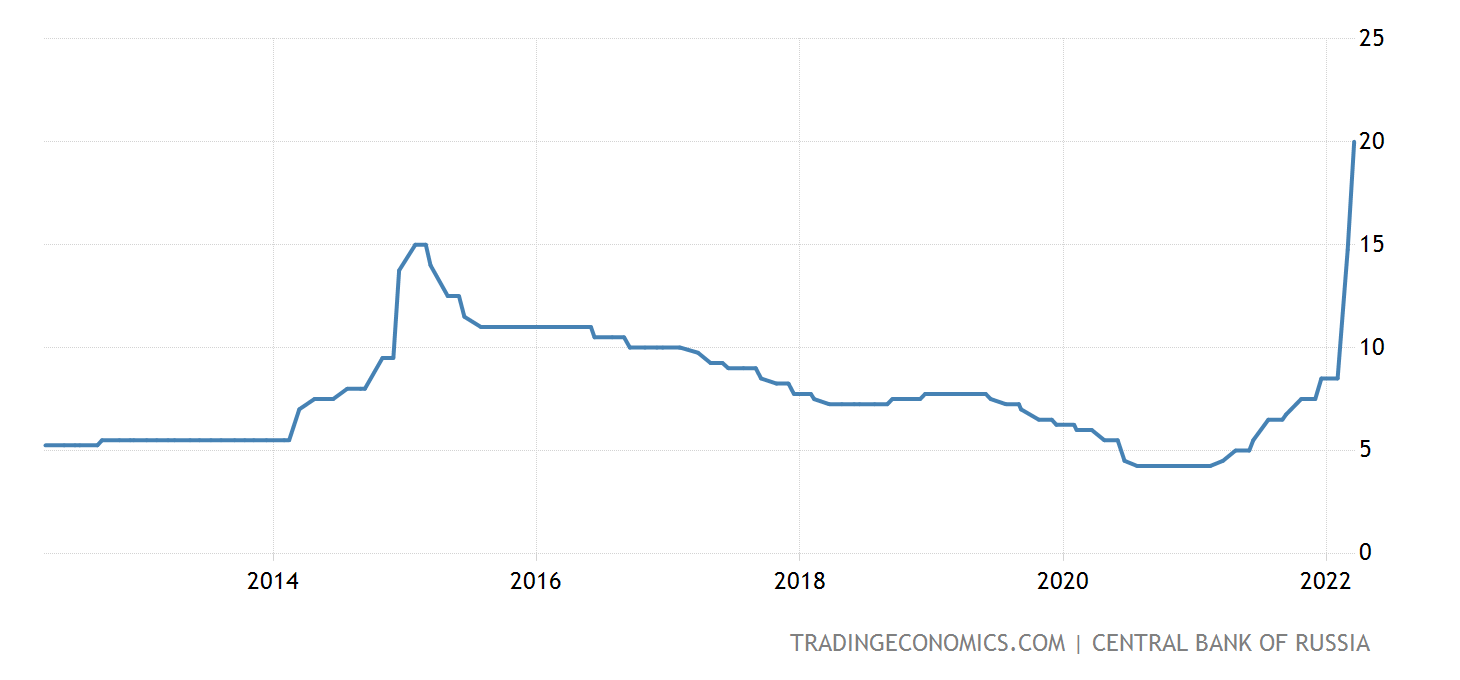 However, for reserves, the Central Bank of Russia yesterday announced on its website:
Disclosure of Russia's international reserves

To mitigate the sanctions risks, the Bank of Russia has updated the disclosure format for international reserves of the Russian Federation and foreign exchange and gold asset management.

Starting from 31 March 2022, the Bank of Russia resumes publishing the total value of international reserves of the Russian Federation on a daily and weekly basis.

Information on the foreign exchange and gold asset management as of 1 January 2022 will be disclosed in the Bank of Russia's 2021 Annual Report. The Bank of Russia suspends the publication of its foreign exchange and gold asset management reports for the period from 1 January 2022.
So, we only have data through February in the below graph (for international reserves):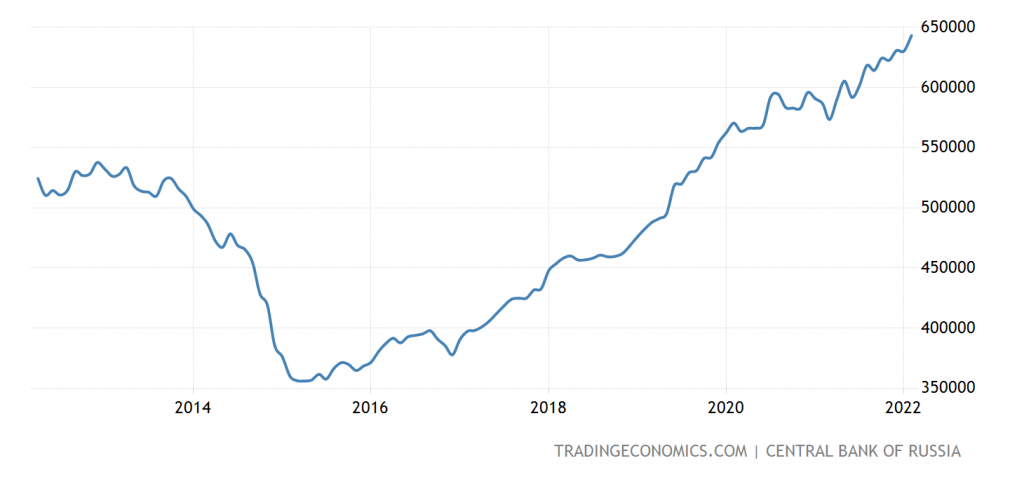 In addition, part of the work in stemming the rise in the EMP has been done by stringent capital controls. From Reuters:
Russia also introduced restrictions on the movement of funds that could be transferred to unfriendly countries by a comparable amount," the central bank said in its first detailed explanation of the reasoning behind its decisions.

These included capital flow restrictions, a ban on the sale of securities by foreign investors, a ban on withdrawal of their funds from the Russian financial system, and the need to obtain special state approval to make payments to debt holders from "unfriendly countries".
So, it's true the ruble is back to where it began. But we literally do not know where some other variables are now.
In other financial developments, as of today (WorldGovernmentBonds.com):
Last Update: 31 Mar 2022 20:15 GMT+0

The Russia 10Y Government Bond has a 11.105% yield.

10 Years vs 2 Years bond spread is -157 bp.
Yield Curve is inverted in Long-Term vs Short-Term Maturities.

Central Bank Rate is 20.00% (last modification in February 2022).

The Russia credit rating is CC, according to Standard & Poor's agency.

Current 5-Years Credit Default Swap quotation is 412.48 and implied probability of default is 6.87%.
However, the CDS quotation is dated February 28th…