Today we are fortunate to be able to present a guest contribution written by Rashad Ahmed (Office of the Comptroller of the Currency, US Treasury). The views presented are solely those of the author, and do not necessarily represent the views of the US Treasury, or any other organizations the author is affiliated with.
Is a flatter U.S. yield curve foreshadowing a recession? The predictive nature of the slope of the U.S. yield curve, also referred to as the term spread, is well documented by both academics and practitioners. It is less clear, however, whether non-U.S. yield curves help predict U.S. economic activity. In Ahmed (2022), I examine this issue and demonstrate that foreign yield curves do in fact contain information about future U.S. recessions – above and beyond the information contained in the U.S. yield curve. Like the U.S. term spread, U.S. recession risk significantly rises and real GDP growth slows as foreign term spreads narrow. This means that not all U.S. yield curve inversions are alike: a flatter U.S. yield curve coinciding with flatter yield curves abroad indicates greater recession risk than a flatter U.S. yield curve in isolation.
Why might foreign yield curves predict U.S. economic activity? In their respective countries, foreign yield curves might lead economic conditions that are eventually 'exported' to the U.S. via cross-border spillovers. Foreign yield curves might also reflect global financial cycles, acting as a common factor shaping economic conditions across many countries including the United States. The evidence supports both views.
Constructing Term Spreads
Using quarterly data from 1979-2021, a foreign term spread (FTS) constructed as the average 10-year minus 3-month term spread over G-7 constituents Canada, Germany, Japan, and the U.K., is included alongside the U.S. term spread (USTS) in regressions of future U.S. recession risk and U.S. real GDP growth. Figure 1 left-panel shows both the USTS and FTS. The two series are positively correlated (0.55, t-stat of 8.54), consistent with a common factor driving interest rates globally.

Figure 1: U.S. and Foreign 10-year-3-month Term Spreads
While both the USTS and FTS can directly enter in regressions of future U.S. economic activity to assess their informativeness as leading indicators, the significant correlation between the two variables make it challenging to disentangle the contribution of each. I take a conservative approach by allocating any information about future U.S. economic conditions shared between the USTS and FTS to the USTS, by formally testing whether innovations in the FTS that are uncorrelated with the USTS contain incremental predictive value. This requires recovering the FTS residual which is uncorrelated with the USTS, estimated as the residual from a regression of the FTS on the USTS. Figure 1 right-panel plots the recovered FTS residual. FTS residual values above zero can be interpreted as a foreign term spread that is steep relative to the U.S. term spread by historical standards, while values below zero indicate relative flatness. Note that using the FTS residual instead of the FTS directly in the analysis does not alter the joint predictive power of the FTS and USTS, but it does serve as a convenient yet conservative tool to quantify the unique contribution of the FTS. Having the FTS enter directly is also considered.
The Regression Models
A standard probit model is estimated to test whether the FTS and other indicators can predict whether a recession occurs any time within the following 12 months. Indicators considered include the FTS and those previously shown to lead recessions: the USTS, Federal Funds Rate (FFR), S&P 500 stock returns, S&P 500 volatility, Brent crude oil price changes, and national financial conditions.
Table 1 reports estimates from alternative probit regression specifications. The significant negative coefficient on the USTS implies that a steeper (flatter) U.S. yield curve is associated with lower (higher) recession risk. The FTS residual and both equal and GDP-weighted FTS are also found to be statistically significant predictors of U.S. recessions and their inclusion increases the McFadden R-squared from 8% to about 15%. Like the U.S. yield curve, the negative coefficient on the FTS or FTS residual implies that U.S. recession risk rises as foreign yield curves flatten.
Table 1: Probit Regressions of NBER Recessions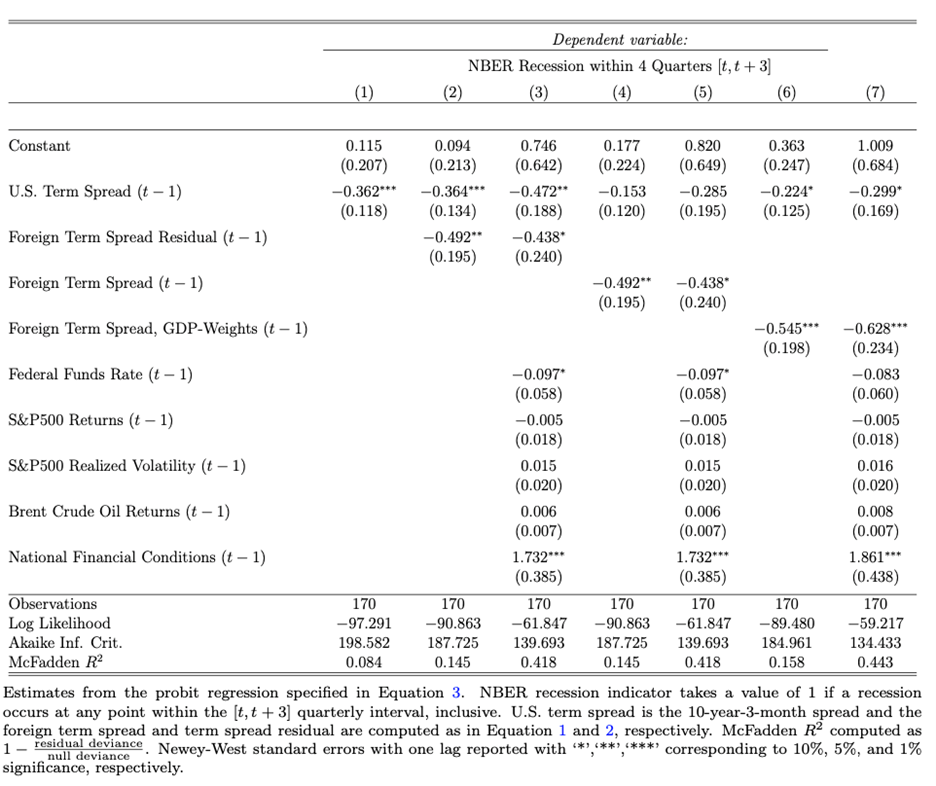 Columns 4-7 of Table 1 show that when the FTS enters directly, the coefficient on the USTS falls substantially. This result suggests that U.S. and foreign yields are partially governed by underlying common factors like the global financial cycle. However, the foreign term spread remains a significant predictor of U.S. recession risk after controlling for the U.S. term spread and additional proxies for the global financial cycle such as stock market volatility, U.S. financial conditions, and the FFR. Moreover, the coefficient on the GDP-weighted FTS that assigns heavier weights to particular regions (e.g., Europe) is larger than the coefficient on the equal-weighted FTS. Both results suggest that common factors cannot alone account for the predictive nature of foreign yield curves. The predictive power of foreign yields, therefore, seemingly arises from both common factors and cross-border spillovers.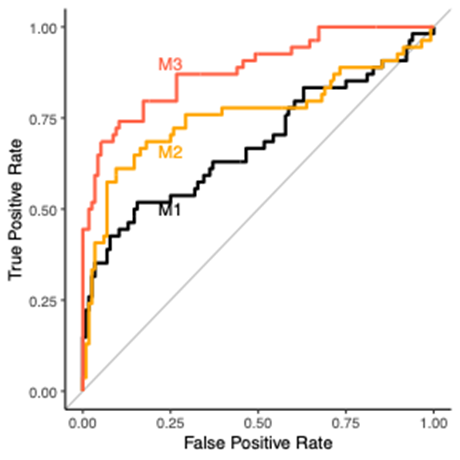 Figure 2: ROC Curves
Model Performance
To compare model performance, Figure 2 presents receiving operating characteristic (ROC) curves of the first three models in Table 1: the univariate USTS model (M1), the model with the USTS and FTS residual (M2), and the model with the USTS, FTS residual, and additional indicators (M3). Compared to M1, M2 has meaningfully higher true positive rates when false positive rates are 15-50% and lower false positive rates when true positive rates are 40-75%. M3 dominates both M1 and M2, unsurprisingly.
Separately from recession prediction, it is shown that foreign yield curves are useful for predicting U.S. real GDP growth up to three years ahead. The larger points in Figure 3 refer to point estimates over 1979-2019 (pre-COVID) and the smaller points refer to estimates over 1979-2021. The left-panel shows that a U.S. term spread which widens by 1 percentage point is associated with 0.77% faster real GDP growth over a 4-quarter horizon and a 2.22% faster growth over 12 quarters.

Figure 3: Local Projection Estimates of the U.S. Term Spread and Foreign Term Spread Residual on U.S. Real GDP Growth
The right-panel shows that a 1 percentage point widening of the FTS residual is associated with 0.57% faster growth in the U.S. over a 4-quarter horizon and 1.27% faster growth over a 12-quarter horizon. The vertical error bars represent 95% confidence bands, indicating that the relationships between these term spreads and future real GDP growth in the U.S. are statistically significant.
Recession Forecast using Data as of May 18th, 2022
To conclude, I use the latest available data on the indicators and Model 5 from Table 1 to produce a real-time forecast for a U.S. recession within the next 12 months. The model implies a 60% recession probability over the next 12 months (essentially Q3 2022 – Q2 2023). It's worth noting that recession risk may be much higher than 60%. A threshold of 60% used to classify recessions results in a false positive rate of 3.4% over the in-sample period of 1979-2021. In other words, modeled recession probabilities at least this high rarely produced false alarms over the last 4 decades.
Furthermore, yield curves are not driving recession risk right now in 2022. In the model, the recent stock market drop, increase in stock market volatility, and sharp rise in oil prices together account for one-third of the 60% recession probability. The most important factor contributing to current recession risk is the oil price shock, which alone raises the recession probability by 12.6 percentage points.
References
Ahmed, Rashad. "Do Foreign Yield Curves Predict US Recessions?." Available at SSRN 4097006 (2022).
---
This post written by Rashad Ahmad.