It might be misleading to rely to heavily on simple inflation break even calculations, which show inflation over the next five years lower today than they were on the even of the expanded Russian invasion of Ukraine.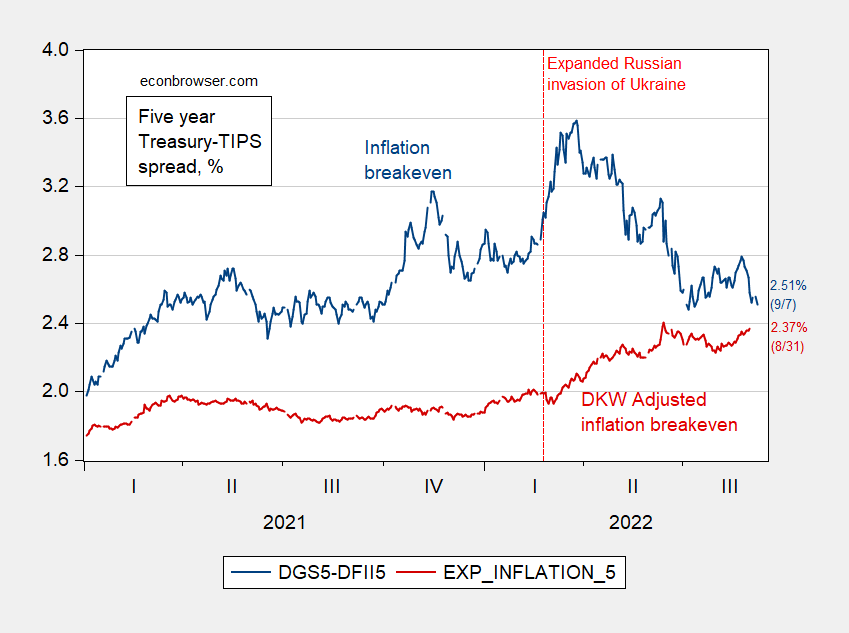 Figure 1:  Five year inflation breakeven calculated as five year Treasury yield minus five year TIPS yield (blue), five year breakeven adjusted by inflation risk premium and liquidity premium per DKW (red), both in %. Source: FRB via FRED, Treasury, NBER, KWW following D'amico, Kim and Wei (DKW) accessed 9/7, and author's calculations.
Two series are plotted. Why is this distinction important? Consider the case for the 10 year inflation break even calculation. If the 10 year TIPS depends on expected future one year real rates and a liquidity premium (lp), then:

The liquidity premium is defined as the premium that arises because of the lower liquidity of the TIPS market; from Andreasen, Christensen and Riddell (2020):  "Despite the large size of the TIPS market, an overwhelming amount of research suggests that TIPS are less liquid than Treasury securities without inflation indexation
Hence the simple break even calculation is:

If the term premium on nominal bonds and liquidity premium on TIPS were zero (or each moved in lockstep), then the gap between 10 year Treasurys and 10 year TIPS could be imputed to expected inflation over the next ten years. However, that is not likely to be true, so the commonly calculated breakeven is probably measured with error, which is likely to vary systematically over the business cycle. The same applies for the five year spread.
Note that the adjusted series — contrary to the unadjusted series — indicates no jump up and then decline. Rather there is a gradual rise from about 2% to 2.4%. Hence, the adjusted series implies higher inflation than pre-invasion, but never as high as implied by the unadjusted series in March.
Since the CPI runs about 0.5 percentage points higher than the PCE deflator, this suggests the five year inflation rate for the PCE is about at the 2% number that was the Fed's target.