Here're some macro indices at the weekly frequency for the real economy.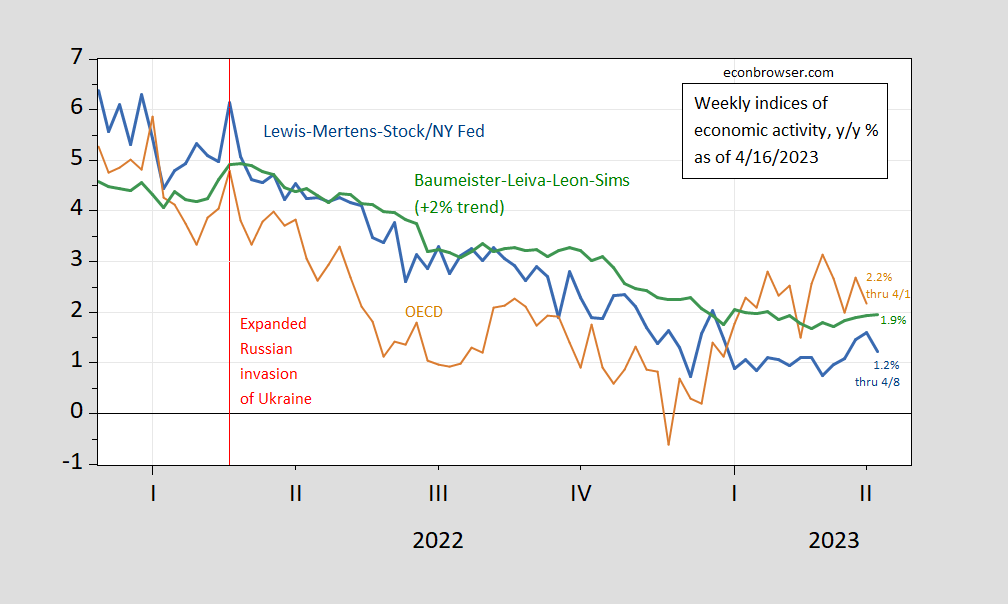 Figure 1: Lewis-Mertens-Stock Weekly Economic Index (blue), OECD Weekly Tracker (tan), Baumeister-Leiva-Leon-Sims Weekly Economic Conditions Index for US plus 2% trend (green), S&P Market Intelligence monthly GDP (blue bar), all growth rate in %. Source: NY Fed via FRED, OECD, WECI, accessed 4/16, and author's calculations.
The Weekly Tracker was not updated, so I repeat the growth at 2.2% for the week ending 4/1.  The WECI+2% thru 4/8 is (1.9%), while WEI reading is 1.2%. The latter is interpretable as a y/y quarter growth of 1.2% if the 1.2% reading were to persist for an entire quarter.The Baumeister et al. reading of -0.1% is interpreted as a 0.1% growth rate in below the long term trend growth rate. Average growth of US GDP over the 2000-19 period is about 2%, so this implies a 1.9% growth rate for the year ending 4/8.
Recall the WEI relies on correlations in ten series available at the weekly frequency (e.g., unemployment claims, fuel sales, retail sales), while the WECI relies on a mixed frequency dynamic factor model. The Weekly Tracker is a "big data" approach that uses Google Trends and machine learning to track GDP. As such, it does not rely on actual economic indices per se.