The pattern of forecasts from the Survey of Professional Forecasters over the past three quarters suggests a receding downturn. Today's Atlanta Fed's GDPNow for Q2 seems to confirm that no downturn occurred in 2023Q2.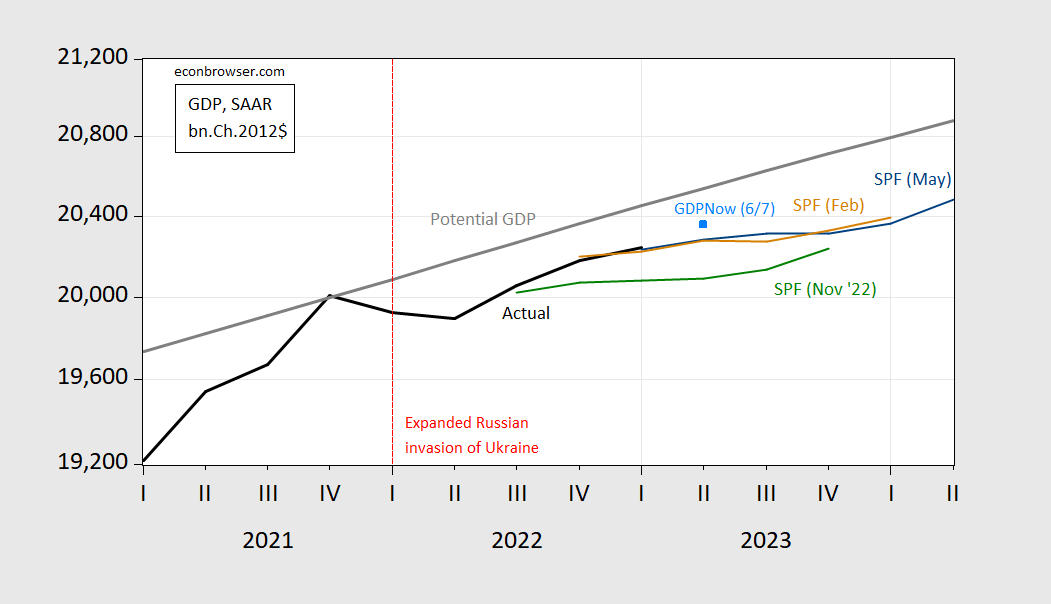 Figure 1: GDP (bold black), Survey of Professional Forecasters May median (blue), February median (tan), November 2022 median (teal), and GDPNow of 6/7 (sky blue square), all in billions Ch.2012$ SAAR. Source: BEA 2023Q1 2nd release, Philadelphia Fed, Atlanta Fed and author's calculations. 
As of today, S&P Global Market Insights formerly IHS Markit/Macroeconomic Advisers says 2.8% in Q1, 0.8% in Q2 (SAAR). GS tags Q2 growth at 1.7% (final sales at 2.1%).
In forecasts more recent than the May SPF (those forecasts are gathered at the end of April), Yang et al. at DB today note that their growth tracker for final sales is moving toward zero in Q2 "Surveys say: Growth near stall speed, not yet negative".
That perspective is consistent with my view (based on term spread models, among other things) that a recession would more likely start in 2023Q3-Q4 (here I'm assuming the growth slowdown occurs as the same time as other broad indicators like employment and income decline). That was also the modal response in the last FT-IGM survey taken in mid March. The FT-IGM survey will come out soon, and we'll see