Long term real rates predicted, and r*.
From the market, and from the CBO. BOth are predicting real rates will rise (although the market indicators seem to have been way off in the past few years).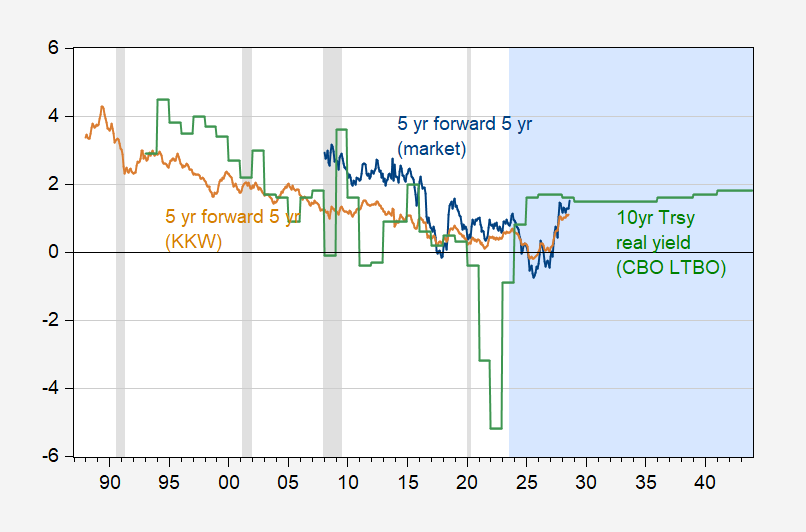 Figure 1: 10 year real Treasury yield from CBO Long Term Budget Outlook (green), and 5 year 5 year forward real rate from market, using Survey of Professional Forecasters 10 year inflation median forecast (blue), adjusted from KKW (tan). August 2023 reading for market forecast uses data through August 14. Light blue shading denotes projection period. NBER defined peak-to-trough recession dates shaded light gray. Source: CBO, Treasury via FRED, Philadelphia Fed, KKW, NBER, and author's calculations.
What about r*, the rate that sets output at potential output? And here are two estimates of r*, from Baker et al. at the NY Fed.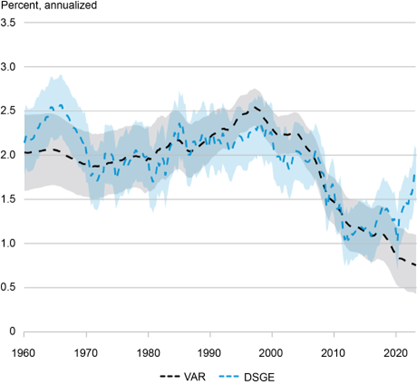 Figure 2:r* estimates from VAR and from DSGE, as described in Baker et al. (2023).
Clearly, as discussed in the article, there is some disagreement. The DSGE approach indicates a move back toward pre-2000 levels, while the VAR indicates that the drop could be persistent.