Is there a direct relationship running from a change in the dollar's value and import and export prices and thence to consumer prices?
Numerous commentators have suggested that the declining dollar could lead to increased inflationary pressures. So a declining dollar, in this perspective, could confront the Fed with a particularly unpleasant set of choices. In particular, it might be forced to react to the dollar's decline in order to squelch imported inflationary pressures at exactly the same time that it has already raised interest rates to cool domestic demand.


While not denying the plausibility and logic of such a scenario, it makes sense to consider it more closely (following up on a post back in October). First, what is exchange rate pass through, conceptually? There are several definitions floating around, but the most prominent two are (1) the percent change in import (or export) prices for a percent change in the exchange rate, and (2) the the percent change in the CPI for a percent change in the exchange rate. Second, what is the empirical magnitude of this relationship? This is more problematic, since one has to measure the strength of this relationship using regression analysis. Here, one might think we have less to worry about, since there have been several studies that have documented a decline in exchange rate pass through in industrial countries (Fed working paper and BIS working paper, among many others). The figure below presents exchange rate pass through into U.S. import prices ex. commodities.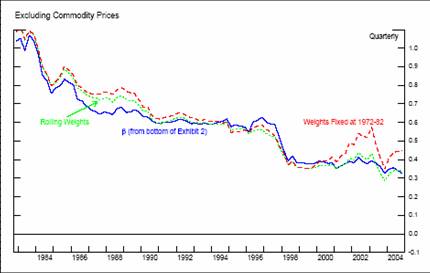 Figure 1: Exhibit 8 from
Marazzi, Sheets and Vigfusson (2005)
.

Of course, with any empirical work, there is some room for disagreement over interpretation. The "all goods" pass through coefficient from the Fed study has declined from 0.40 to a recent 0.20. However, if one excludes commodities (which are often priced in dollars), then — as depicted above — the coefficient has looked more stable, at around 0.25. Other studies, for instance by Campa and Goldberg, conclude that pass through coefficients have been quite stable over time, and attributed observed time variation in the measured aggregate pass through coefficient to changes in the composition of import bundles.


But here I come to the key question for policy-makers: How much can we rely upon the estimated pass-through coefficients to remain at their current magnitudes, be they 0.20, 0.40, or say at about 0.23 (the Campa and Goldberg estimate for the US in the short run)?


This is where the interpretation of the econometrics can lead to differing policy implications. If there has been decreasing exchange rate pass through as a consequence of increased credibility of monetary policy — as is typically assumed — then we should expect less imported inflationary impulses than in the past, given a dollar depreciation. But that relies upon our estimates of the pass through coefficient being accurately estimated, controlling adequately for the conduct of monetary policy (remember that both import prices — the CPI — and the exchange rate are functions of expectations regarding the current and future stance of monetary policy). This conclusion also relies upon monetary policy actually being perceived as being more credible than say 20 years ago.

If, on the other hand, the reason for the declining observed pass through has been structural in nature, due to the changing composition of import bundles, then we may very well observe less pass through this time, even if the conduct of monetary policy is very similar to what it was over the past 10 years.


Some of these observations are quite pedestrian. But it bears repeating, if only because we often treat estimated parameters as good measures of structural parameters. This might sometimes be approximately true. But one has to take into account our uncertainty regarding our knowledge of the models when actually formulating the appropriate policy response (or predictions of policy responses).


By the way, I don't have a clear answer to the question posed at the beginning of this post. But I suspect that many market observors will be surprised by the magnitude of the change in import prices and CPI in response to what I see as an incipient dollar decline.

Technorati Tags: dollar depreciation,
pass through,
monetary policy