What the Meese-Rogoff papers do and don't say, and the implications for empirical exchange rate modeling
My former teacher Dick Meese recently made several presentations here at UW Madison. One of those talks was on the relationship between the results in the Meese and Rogoff paper and exchange rate prediction. As the dollar looks set to resume its decline, it might be useful to understand the meaning of this paper.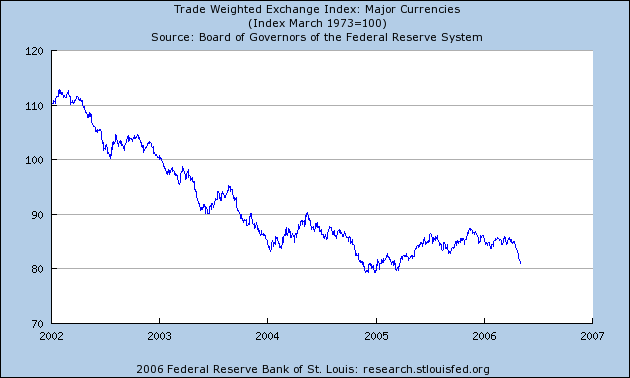 Meese and Rogoff detailed in their 1983 paper the fact that the extant models of the period (monetary, Hooper-Morton) failed to outperform a random walk in out of sample historical simulations, by either mean error, mean squared error or mean absolute error criteria. (An out of sample historical simulation is a forecast where parameter estimates from a particular sample are used out of sample, but using ex post values of the right hand side variables.) This finding has by and large stood the test of time, including sequels by Meese and Rogoff (1988 Journal of Finance), and to a lesser extent the 1995 paper by Chinn and Meese, as well as the 2005 paper by Cheung, Chinn and Garcia Pascual.


Does this mean that monetary models of exchange rates are irrelevant. Not really. The Meese-Rogoff results pertain to a combination of a theory (say a monetary model of exchange rates) and assumptions about the driving processes for the fundamentals (stable autoregressive processes, and a random walk for certain prior views regarding the expected coefficient values).


My colleagues Charles Engel and Ken West have written a paper in which the monetary model is correct but, given a low discount factor, the exchange rate actually Granger-causes (temporally precedes) the implied fundamentals (money stocks, income levels, interest and inflation rates). This does not have to happen, but usually does given the discount factor and the usual degree of autoregressivity in the fundamentals (see the paper by Jian Wang).


So the bottom line is that monetary models might be relevant, especially for thinking about what shoud happen in response to a monetary shock; but the ability of empirical versions of the model to predict future exchange rates depends as much on the other auxiliary assumptions as much as the basic theoretical framework.

Technorati Tags: Richard Meese,
Kenneth Rogoff,
monetary+model,
exchange rate