The phenomenal boom of Canada's oil sands industry continues, despite the complete absence of any government crash program to cope with peak oil.
Via Green Car Congress, the Canadian Association of Petroleum Producers new projections call for Canada to double its production of crude oil by 2020, thanks to rapid expansion of the Canadian oil sands resource. CAPP's new projections for 2015 are 750,000 barrels per day higher than they were projecting just last year, and call for nearly 5 million barrels per day (mbd) Canadian production by 2020.
It's interesting to compare these new projections with the assessment made in last year's report by Robert Hirsch and co-authors on prospects for mitigating peak oil:
The current Canadian vision is to produce a total of about 5 mbd of products from oil sands by 2030. This is to include about 3 mbd of synthetic crude oil from which refined fuels can be produced, with the remainder being poorer quality bitumen that could be used for energy, power, and/or hydrogen and petrochemicals production. 5 mbd would represent a five-fold increase from current levels of production. Another estimate of future production states that if all proposed oil sands projects proceed on schedule, industry could produce 3.5 mbd by 2017, representing 2 mbd of synthetic crude and 1.5 mbd of unprocessed lower-grade bitumen.
The Hirsch report was concerned that this pace was much too slow, and advocated a crash program for acceleration:
The pace that governments and industry chose to mitigate the negative impacts of the peaking of world oil production is to be determined. As a limiting case, we choose overnight go-ahead decision-making for all actions, i.e., crash programs. Our rationale is that in a sudden disaster situation, crash programs are most likely to be quickly implemented.
The heart of the Hirsch analysis was based on the idea of "wedges", or the notion that even if a crash program were implemented today, with the long lead times for many of these projects, even after a number of years they would still be making a relatively minor contribution. Canadian oil sands represent one component of the wedge labeled "heavy oil" in Hirsch's diagram below.
I had the opportunity to meet Bob Hirsch at a conference a few weeks ago, and liked him very much. He is sincere and passionate in his commitments, and open and thoughtful in discussion. He is certainly correct that there are enormous lead times involved in these technologies, and that even with the accelerated development, oil sands could only make a modest dent globally in offsetting a rapid decline rate from conventional crude production.
Suncor Energy Inc., Fort McMurray, Alberta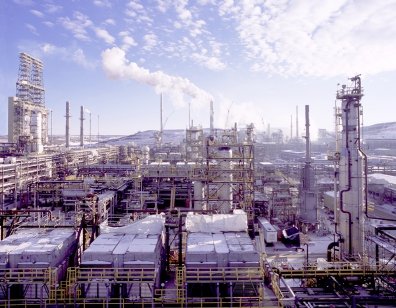 Even so, I am struck by the fact that, at least for oil sands, his "crash program" is already being implemented. And it's happening not because somebody argued persuasively that it needed to be done, but rather because producers found that by doing it they could earn huge profits. As I've said before, the profit motive is an incredibly powerful incentive, a far more effective force to change the world, for better or worse, than the exhortations of the most passionate and informed advocate. Those who seek to change the world would be wise to consider how to marshal this force to be working with them on their side.
Some economists talk about the forces that determine the supply and demand for "widgets". I think we may have something to say about "wedges" as well.
---
Technorati Tags: peak oil,
oil sands,
Hirsch report