At the start of this month, I joined others in predicting that U.S. gasoline prices would soon be below $2.50 a gallon. The price has already dropped 20 cents to $2.60 a gallon since then, and it now appears likely to go down at least another 30 cents from here.
Source: href="http://www.newjerseygasprices.com/retail_price_chart.aspx">New Jersey Gas Prices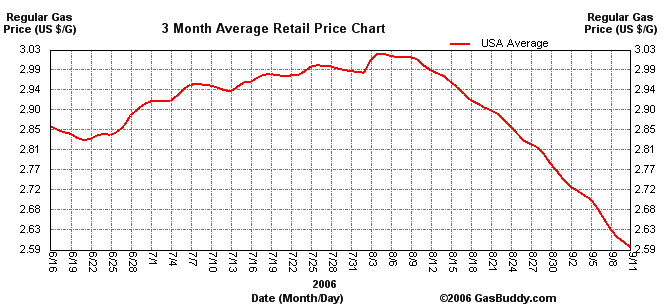 Although crude oil prices can be quite hard to predict, retail gasoline prices are at times a little easier, because it often takes some time for price declines in crude oil or bulk gasoline to work their way down to the retail level. A useful advance indicator of where retail prices are headed is the NYMEX gasoline futures contract, which yesterday traded down to $1.55. This futures price does not include taxes or the wholesale and retail markup, which in recent years have averaged about 60 cents a gallon. Using that 60 cents benchmark, a retail gasoline price below $2.20 a gallon appears to be quite reasonable to anticipate.
So why are gasoline prices coming down so dramatically? There are important seasonal factors in U.S. gasoline prices, which are higher in the summer due to summer fuel requirements and greater gasoline demand. Everyone always seems as shocked when prices go up in the spring as when they come down in the fall, even though to some extent that same pattern is repeated every year. However, much more than just the usual seasonal is in operation this fall. The drop in crude oil prices, down $14/barrel over the last month, has now become the dominating factor.
Some might be tempted to attribute part of the recent decline in crude oil prices to last week's widely publicized ultra-deepwater production tests from the Gulf of Mexico. However, it seems pretty unlikely that this has made a material contribution to crude oil prices. Some qualifications about these Gulf of Mexico prospects have been noted here as well as at the Oil Drum. Moreover, if last week's news was that big a deal, you'd think it would be most apparent in the valuation of the stocks of the companies that announced it. But Chevron's stock is now well below its value before the announcement,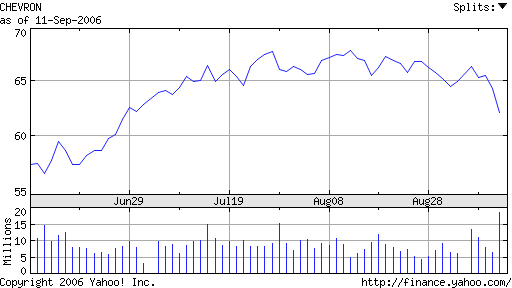 while Devon has given up half the bounce it received last week:
So what is going on? I've argued that speculation in oil has in part been driven by the asymmetric payoff structure in a tight market. With limited excess capacity, any supply disruption had the potential to produce quite a spike up in prices, and that possibility may have been regarded as sufficient compensation to speculators for the risk of a price decline that would be expected to occur if none of those events took place. But we're now operating on the flip side of that same calculation– hurricanes have so far failed to disrupt this season's production of oil from the Gulf of Mexico and the conflict with Iran seems to be playing out as an awkward standoff. The absence of bad news means prices had to drop.
Furthermore, there is some evidence that petroleum demand is finally starting to be tamed, which is of course one way to create more excess production capacity in the world oil market. My concern here is that the incipient economic slowdown may be the most important factor responsible for declining petroleum demand. And to the extent that's the story, the oil price declines are not exclusively a harbinger of good economic news.
Even so, if we do get to $2.20 a gallon, it's hard to believe that won't provide some relief for sagging consumer sentiment and budgets, as indeed the prospective gasoline price drop looks quite similar to the favorable sequence last fall that may have helped the economy shrug off the GDP slowdown in 2005:Q4. There's no question that $3.00 gasoline has been one of the reasons some of us have been pessimistic about near-term economic prospects, and that reason for gloom at least has now vanished.
Other concerns certainly remain, but let's issue an official Econbrowser declaration on the energy news:

---
Technorati Tags: gas prices,
gasoline prices