In present value terms, where were we in 2000? Where are we now?
Things are looking pretty dire, according to the GAO's Comptroller David Walker.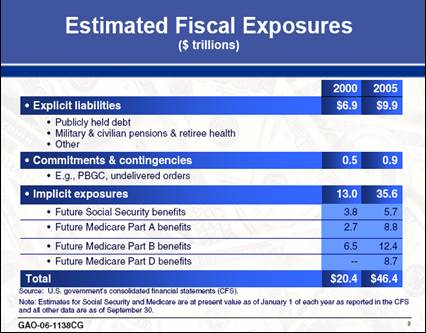 Figure 1:
David Walker, "Saving Our Future Requires Tough Choices Today," Speech at UT, Austin, September, 28, 2006
.
When the President speaks of the Administration's commitment to fiscal restraint, and the need to rein in Social Security, it behooves us all to look at the fourth line under "implicit exposures"; the largest single increment to the the present value of liabilities — larger than explicit liabilities (U.S. Treasury debt) run up with all the budget deficits over the past 5 years, and larger than Social Security liabilities that have troubled the Administration — is Medicare Part D, passed by this Congress, and signed into law by President Bush.


Wasn't there any oversight at this time? And didn't somebody know about the immense fiscal burden imposed by the passage of this legislation. The answers are respectively "no" and "yes". As detailed in "Medicare actuary details threats over estimates," Government Executive, March 24, 2004, the information was suppressed until after the passage of the bill.


In testimony before the House Ways and Means Committee, Foster for the first time discussed publicly how Thomas Scully, the former director of the Centers for Medicare and Medicaid Services (CMS), threatened to fire him if he responded to requests by members of Congress seeking cost estimates of the Medicare bill that Congress passed last year.



The Congressional Budget Office had estimated the new law would cost $395 billion, while Foster's tally was $534 billion. Many conservatives resisted the bill, and others were only convinced to support it by promises that it would not top $400 billion.



House Ways and Means ranking member Charles Rangel, D-N.Y., said if Foster's estimate had been made public, the bill would have died. "You would not have had the votes to pass this if the cost of the bill was known," he said. As the bill was being crafted, Foster said his estimated price tag fluctuated but remained between $500 billion and $600 billion.



Foster said he reminded Scully of conference report language in the 1997 Budget Act that established the Medicare actuary as an independent office given the task of providing Congress with "prompt, impartial … information."



But Scully dismissed that language in "unprintable" terms, Foster said. "The polite version was that the conference report meant nothing," he added.



After consulting an HHS lawyer who advised him that Scully did have the authority to prevent him from sharing his analyses, Foster said he determined to remain at the agency despite what he thought were Scully's "inappropriate … unethical" demands.


See also the Inspector General's memo. Concerns about criminality were raised by the Congressional Research Service


What ever happened to Thomas Scully, the former director of the Centers for Medicare and Medicaid Services? From Bestwire

Fourteen days after Congress passed the new Medicare law in December, Scully left CMS to work for a law firm that represents hospitals, drug companies and other corporations with millions at stake in the Medicare program he helped shape. There was also a minor controversy centering on the fact he was actively job-hunting with a firm whose financial fortunes were directly affected by the decisions he made as CMS administrator.

Technorati Tags: href="http://www.technorati.com/tags/budget+deficits">budget deficits, href="http://www.technorati.com/tags/fiscal+exposure">fiscal exposure,
href="http://www.technorati.com/tags/Social+Security">Social Security,
Medicare Part D,
Thomas Scully, and
href="http://www.technorati.com/tags/Medicare+Actuary">Medicare Actuary.