The non-oil trade balance stabilizes. Petroleum-related imports exceed the US-China trade deficit.
The BEA/Census released the October trade figures this morning. The actual $58.9 billion deficit for October (seasonally adjusted figure) was substantially smaller in absolute value than consensus of $63.0 billion. The decline was hence a big surprise. Here's Bloomberg's coverage:

"The U.S. trade deficit shrank by the most in almost five years in October as the price of imported oil dropped and faster growth abroad propelled exports to a record.



The Commerce Department said today in Washington that the gap narrowed 8.4 percent to $58.9 billion, less than forecast by economists. The improvement came even as the U.S. had a record shortfall with China, which is on course to surpass Mexico this year as the nation's second-biggest trading partner behind Canada."


Below is a graphical depiction of the time series, in millions of dollars.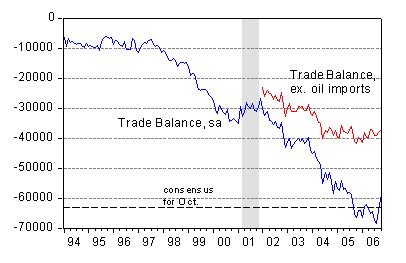 Figure 1: Total goods and services trade balance and total ex petroleum and petroleum products imports, seasonally adjusted. Source: BEA/Census, October 2006 release.
One noteworthy point is that the non-oil trade deficit has continued its stabilization in nominal terms (as mentioned in my post on the May 2006 trade figures as well as this post based on the NIPA data), so in terms relative to nominal GDP, it has fallen.
The article continues:

"The trade deficit with China rose to $24.4 billion, from $23 billion in September. Imports from China rose to $29.3 billion in October. U.S. exports to the country rose to $4.9 billion from $4.6 billion. Year to date, total trade with China reached $281 billion, passing Mexico's $278.3 billion.



Paulson, Fed Chairman Ben S. Bernanke and Commerce Secretary Carlos Gutierrez are among a group of U.S. officials going to China this week in what will become an ongoing effort to address differences. The U.S. is China's biggest trading partner.



U.S. congressional leaders and manufacturers have criticized China for keeping its currency, the yuan, undervalued in order to promote sales overseas. They've also said the country has failed to crack down on rampant piracy and has kept some industries closed to overseas competition."

While all eyes are on China, with the impending visit by Secretary Paulson et al., in some ways we should (as Brad Setser and others observe) be focusing are sights elsewhere. In particular, despite the decline in petroleum-related imports associated with the decline in oil prices, oil imports are now of equal value to the bilateral trade deficit with China.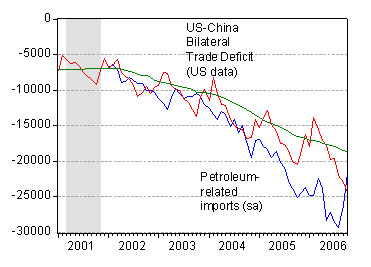 Figure 2:
Negative of imports of petroleum related goods, seasonally adjusted (blue line), and US-China bilateral trade deficit(red line, 12 month moving average green). Source: BEA/Census, October 2006 release, BEA/Census data via Haver, and author's calculations.

Because of the seasonality in the bilateral trade data, it makes sense to put heavier weight on the 12-month trailing moving average series (green). Two observations:


The value of oil imports is declining, but this is almost entirely due to the decline in oil prices. This is shown in Figure 3 below. (West Texas Intermediate is used as a proxy for world price of oil). Hence, a resurgence in oil prices would reverse the improvement in the deficit.

Real petroleum related imports are declinining slightly in the last couple of months. In fact, they are about at the same level as October of 2004, which is remarkable given the fact that real GDP is probably around 6.5 percentage points greater. This may indicate that higher energy prices have induced reduced quantity demanded, or the deceleration in growth has reduced demand (the distinction is between a movement along, and a shift in, the oil demand curve).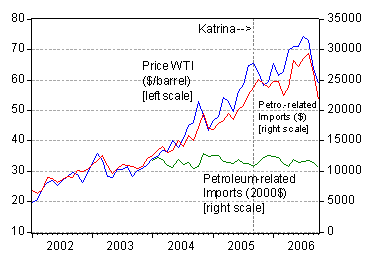 Figure 3:
Price of West Texas Intermediate (blue line), imports of petroleum related goods, seasonally adjusted (red line), and real imports of petroleum related goods in 2000Ch.$(green line). Source: BEA/Census, October 2006 release, St. Louis Fed FREDII, and author's calculations.
One last observation regarding the US-China trade deficit. As remarked in a previous post, there are measurement problems associated with how the US attributes imports from Hong Kong, and how China attributes exports to Hong Kong. These are discussed in my other post on US-China trade. But there is a more fundamental issue of measurement — that is in the case of China, imports from China into the US are very likely to differ very substantially from value-added imported from China, exactly because of the integrated supply chain nature of production. Figure 4 from Lum, CRS Report RL31403
Aug. 2006 illustrates the fact that imports from East Asia account for roughly the same share (35%) of total imports in 2005 as it did in 1990.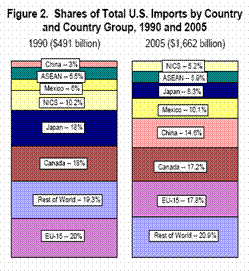 Figure 4:
Figure 2 from
Lum, CRS Report RL31403 Aug. 2006
.
So in some sense, given the integrated nature of supply chain production in East Asia, China (on its own) looms smaller than the oil exporting countries.

[Late Addition: 12/14:]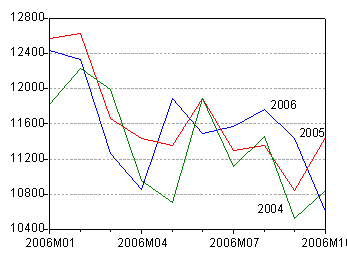 Figure 5:
Imports of petroleum related goods in 2000Ch.$, seasonally adjusted (blue line), lagged one year (red line) and lagged 2 years (green line). Source: BEA/Census, October 2006 release and author's calculations.
Technorati Tags: trade deficits,
China,
oil imports,
oil prices