GDP growth was revised up in today's NIPA release. But there are some interesting aspects in the details.
Nonresidential investment spending was revised downward, reinforcing the view that output growth will decelerate in the near future, even as the residential investment collapses further (see [1],[2], Calculated Risk).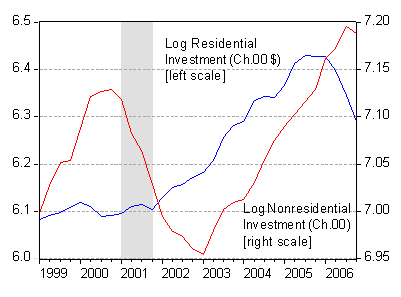 Figure 1:
Residential (blue) and nonresidential (red) investment, in billion Ch.2000$, SAAR. Source: BEA
NIPA
release of 29 March 2007, and author's calculations.
What is interesting to me is the evolution of the estimated nonresidential spending. It's all downward from advance to preliminary to final.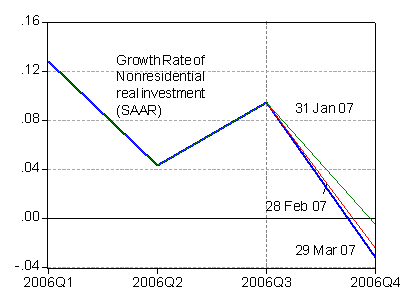 Figure 2:
Quarterly nonresidential investment growth (in log differences), SAAR, from March 29 (blue), February 28 (red) and January 31 (green). Source: BEA
NIPA
release of 29 March 2007.
Technorati Tags: recession, investment,
residential investment.