No, this was not a good housing report.
The Census Bureau reported today that seasonally adjusted new home sales fell 6.6% in the month of June alone. April and May sales numbers were also revised down from what they were earlier reported to have been.
Seasonally adjusted number of new homes sold each month (in thousands of units at an annual rate) as reported by the Census Bureau in May, June, and July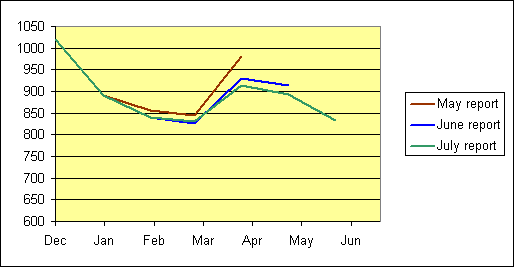 On a seasonally unadjusted basis, this leaves us far below what we should see in a usual summer selling season.
Part of the explanation is the surge in mortgage rates that began in May, which would start to show up in June home sales. Given the historical lags between mortgage rates and home sales, those higher mortgage rates will have an even bigger effect on July and August home sales.
I'd earlier attributed May's surge in long-term interest rates to increased investor optimism about the level of real economic activity. It seems Wall Street took a look at today's housing report and declared a big "whoops":
But an even more important factor for recent home sales than the higher mortgage rates may be the tightening lending standards, an adjustment that also seems unlikely to be finished yet. Tanta noted a Bloomberg report that sales of collateralized debt obligations (which ultimately fund many mortgages) fell from $42 billion in June to $9.1 billion so far this month.
This has continued to a point where substantial real estate price declines may be hard to avoid, and the implications of those for broader financial defaults and the aggregate demand for goods and services are what have me most worried. Even without those price declines, notices of default in California (the first step in foreclosure) have reached the highest level since Dataquick began tracking these numbers in 1988.
Looks like it might be a good time to bring the fed funds target back to 5%.
---
Technorati Tags: macroeconomics,
housing,
recession,
economics