Yesterday, Jim presented his latest estimates of the recession probability [1]. Today, I want to update ([2]) where we stand regarding the indicators the NBER uses in judging whether the economy is in a recession.
Recall, the NBER Business Cycle Committee identifies several key variables:

"In choosing the dates of business-cycle turning points, the committee follows standard procedures to assure continuity in the chronology. Because a recession influences the economy broadly and is not confined to one sector, the committee emphasizes economy-wide measures of economic activity. The committee views real GDP as the single best measure of aggregate economic activity. In determining whether a recession has occurred and in identifying the approximate dates of the peak and the trough, the committee therefore places considerable weight on the estimates of real GDP issued by the Bureau of Economic Analysis of the U.S. Department of Commerce. The traditional role of the committee is to maintain a monthly chronology, however, and the BEA's real GDP estimates are only available quarterly. For this reason, the committee refers to a variety of monthly indicators to determine the months of peaks and troughs.


The committee places particular emphasis on two monthly measures of activity across the entire economy: (1) personal income less transfer payments, in real terms and (2) employment. In addition, the committee refers to two indicators with coverage primarily of manufacturing and goods: (3) industrial production and (4) the volume of sales of the manufacturing and wholesale-retail sectors adjusted for price changes. The committee also looks at monthly estimates of real GDP such as those prepared by Macroeconomic Advisers (see http://www.macroadvisers.com). Although these indicators are the most important measures considered by the NBER in developing its business cycle chronology, there is no fixed rule about which other measures contribute information to the process." [emphasis added]


Figure 1 presents real GDP on a quarterly basis (I don't have access to the Macroeconomic Advisers series). Figure 2 presents industrial production and payroll employment. All three of these series are still trending upward. Figure 3 presents real manufacturing and trade sales, and real personal income less transfers.

Figure 1:
Real GDP in billions of Ch.2000$, SAAR. NBER defined recession dates shaded gray. Source: BEA, July 27 release, and NBER.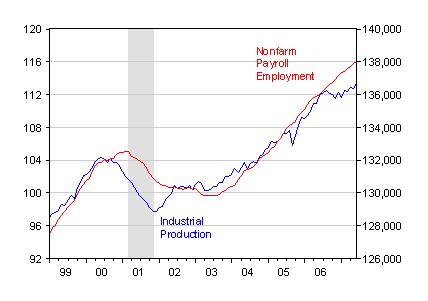 Figure 2:
Industrial production (blue, left scale) and Nonfarm Payroll Employment (red, right scale), seasonally adusted. NBER defined recession dates shaded gray. Source: Federal Reserve and BLS via FRED II, and NBER.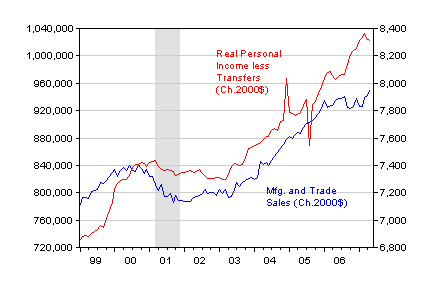 Figure 3:
Manufacturing and Trade Sales (blue, left scale), and Personal Income less Transfers (red, right scale), in billions in Ch.2000$, seasonally adjusted. NBER defined recession dates shaded gray. Source: Census Bureau, BEA, NBER and author's calculations.
Of the last two series, only the income variable seems to be clearly declining. Sales deflated by the personal consumption expenditure deflator seem to be recovering from a slump late last year. So these data seem to indicate little reason to worry.

However, there is one important point to remember — the data get revised. Below, I reproduce some figures from a post last August. In Figures 4-5, the May 2001 vintages of these series (from St. Louis Fed's ALFRED), as well as the November 2001 payroll series(drawn from Robert Hall's database) are portrayed alongside the August 2006 series (drawn from the St. Louis Fed's FRED II).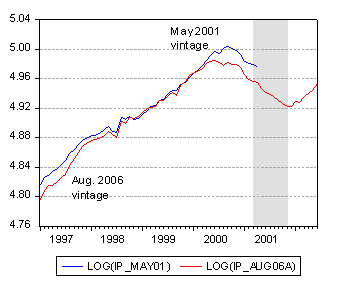 Figure 4: Industrial production (in log terms, 2006 series rescaled). Source: St. Louis Fed ALFRED and FRED II, and author's calculations.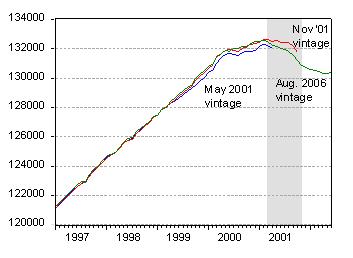 Figure 5: Nonfarm payroll employment. Source: NBER Business Cycle Dating Committee and St. Louis Fed ALFRED and FRED II.

The Industrial Production series has been rebased, so the two vintages of data cannot really be compared (I used the log ratio in 1971m12 to rescale the two series so that they match exactly in that month and before).
Note the November 2001 vintage IP series hits a peak in September 2000; in the August 2006 vintage series, it hits a peak in June 2000. In contrast, nonfarm payroll employment peaks in February, or March, or February (2001), as one uses the May, November 2001 or August 2006 vintages. The key difference in payroll employment is that the more recent data exhibit a much more pronounced employment decline than the November 2001 vintage used to determine the onset of the last recession.
So, if one thinks there are big revisions coming in payroll employment (plausible), and perhaps in GDP (also plausible), then — to quote Jim — "the latest GDP numbers do not prove that we're out of the woods yet." [1]
On that note, I leave you with a picture of the annualized growth rate (in log terms) of real GDP, as indicated in May 2001 (blue) and as of May 2006 (red), retrieved from the Philadelphia Fed's realtime database.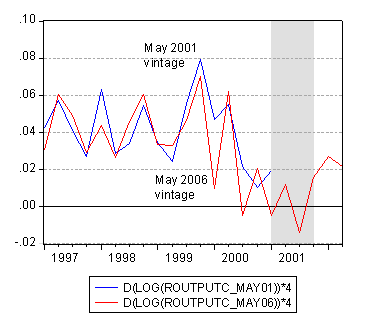 Figure 6: Annualized quarter-on-quarter growth rate of real GDP (in log terms). Source: Philadelphia Fed's realtime database, St. Louis Fed, and author's calculations.

Technorati Tags: recession,
GDP,
industrial production, and
nonfarm payroll employment.