There's an idea floating around that asserts that the high price of oil is — at least in part — due to the weak dollar. Does this make sense?
From the Times yesterday:
October 30, 2007

Oil nears $100 mark as crude reaches yet another record

By Steve Hawkes





Oil prices moved a step closer to the $100 a barrel mark yesterday as supply disruptions in Mexico, the weak dollar and the threat of attacks on oil facilities in Sudan pushed crude to another record high.



US light crude soared to $93.80 a barrel before settling at $93.53, up 67 cents. In London, Brent crude reached a milestone by powering through the $90 mark to strike a record of $90.50.



Dealers said investors were increasingly focused on $100 a barrel and added that a widely expected cut in interest rates by the US Federal Reserve tomorrow could fuel yet more buying given the prospect of further falls in the US dollar. Dollar weakness has boosted the price of dollar-denominated commodities and helped oil to surge by more than a third since the middle of August. It has risen more than 50 per cent this year.


…
[Emphasis added]
A causal flow is imputed in this discussion: namely dollar weakness causes the price of oil to rise, because oil is denominated in dollars. In the face of a declining dollar, with the relative price of oil being set in equilibrium, the dollar price of oil must rise. Figure 1, which depicts the time series of log oil prices and the value of the dollar (against a basket of other major currencies), does seem to lend support to this idea.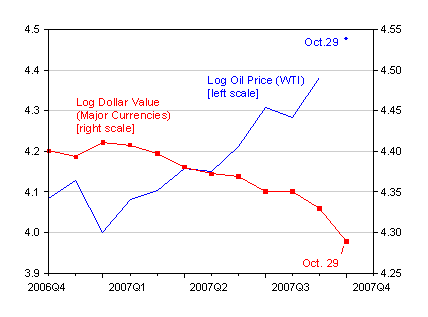 Figure 1: Log oil price per barrel (WTI) (blue) and log Fed major currencies dollar value (red), daily averages except for October (Oct. 29). Source: St. Louis Fed FRED II.

As the index of the dollar's value declines, the oil price ascends. While not denying this "numeraire" interpretation, I think one needs to be wary of attributing unidirectional causality. In particular, it's useful to consider two graphs.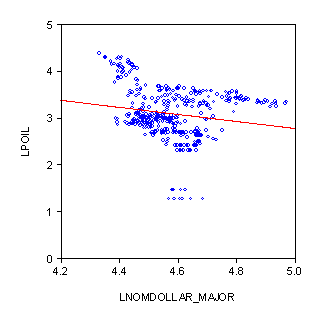 Figure 2:
Log oil price per barrel (WTI) and log Fed major currencies dollar value, daily averages except for October (Oct. 29). Source: St. Louis Fed FRED II.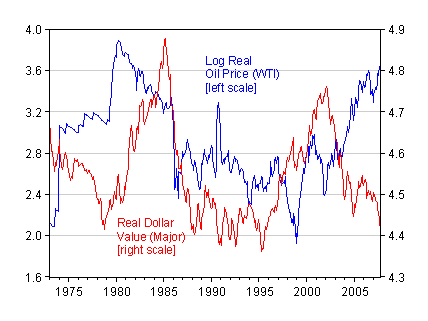 Figure 3: Log real oil price per barrel (WTI, deflated by CPI-all) and log real Fed major currencies dollar value. Source: St. Louis Fed FRED II and Federal Reserve Board.

Two observations. First, Figure 2 indicates that, while there is a negative relationship between the dollar's value and the price of oil (in logs), that relationship is not statistically significant after accounting for serial correlation; nor is it significant in first differences.
Second, the idea that it's just a numeraire issue — weak dollar implies more dollars per barrel of oil — does not seem to be consistent with a negative correlation between the real price of oil and the real value of the dollar, plotted in Figure 3.
In point of fact, one should expect two-way causality. A higher relative price of oil should weaken a country's real exchange rate if it worsens the country's terms of trade (i.e., the country is a net importer of oil). In addition, if the change in the relative price induces obsolescence of some of the capital stock, this would induce an economic contraction that might depreciate or appreciate the currency, depending on variety of assumptions (home bias in consumption, capital/labor ratios in the nontradable versus tradable sector, complementarity of capital and labor with energy, etc.). In Chinn and Johnston (1996) [pdf], a 10 percentage point rise in the real price of oil induces a 2 percentage real depreciation in a typical OECD country real exchange rate. That estimate relies upon exogeneity of real oil prices (an assumption not invalidated by the data).
Close readers will see that my discussion of how to apportion how much of the dollar decline is causing — versus being caused by — oil price increases is related to the issue of how to identify oil price shocks. There are numerous ways of accomplishing this goal. For one instance, see the IMF's April 2006 World Economic Outlook Chapter 2, which uses a particular VAR to identify the shocks (thanks to Alessandro Rebucci for reminding me about this study). In that case, there is essentially zero effect of the oil shock on the real value of the U.S. dollar.
Instead of trying to tease out a specific number, let me just discuss the conceptual difficulties in ascribing the oil price increase to the dollar decline. The key here is to recall that oil is a storable commodity, and hence will be sensitive to expectations regarding current and future monetary policy. Similarly, the exchange rate is the relative price of monies, which is also determined by current and expected monetary policy (in at least two countries). In this interpretation some portion of both prices is determined jointly determined.
The idea that monetary policy drives both the dollar and commodity prices is taken up by Frankel (2006) [pdf].
Frankel argues that monetary policy slack, as summarized by the real interest rate, drives commodity prices. Assuming prices of non-commodity goods are sticky, the real price of commodities is equal to the long run real equilibrium commodity price and the real interest rate adjusted by convenience yield.
q = q~ – b (i-pi-c)
Where q is the log real price of the commodity, q~ is the long run equilibrium log real price, i is the interest rate, pi is the inflation rate, and c is the sum of convenience yield, storage costs, and the risk premium, and b is a coefficient (a function of price stickiness). (For a discussion of what goes into the risk premium, see this job market paper by Alquist.)
Over the 1950-2005 period, he finds a statistically negative relationship between real aggregate commodity price indices (Goldman-Sachs, Dow Jones, CRB, Moody's) and the real interest rate (so estimating this regression implicitly holds constant the long run real price and the convenience yield).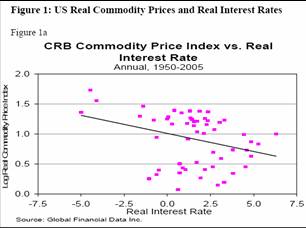 Figure 1a
from
Frankel (2006)
. Scatterplot of CRB real commodity price against real interest rate.
Interestingly, oil is one commodity for which no statistically significant estimate is obtained. Of course, that could be because of the omission from the regression of the long run real equilibrium oil price (the determinants of which are discussed in one of Jim's recent posts.
What to take from this discussion? I'd say my main conclusion is that one should be careful in imputing causality. Recent movements in oil prices might due to nominal factors, in which case one could say a weak dollar (in the sense of currency losing value against a bundle of goods) is associated with a higher dollar price of oil. But there could be relative price changes that would induce dollar declines.
And just to make sure everything is confusing, even if nominal dollar and oil price movements due to monetary shocks are the reason for the correlation, the resulting dollar movements — in the presence of sticky prices — can result in real exchange rate movements (see Frankel (2006) that re-allocate wealth and spending power between countries, and hence feed back to oil prices.
[Late addition] I forgot to add this illuminating graph from Worthwhile Canadian Initiative that Jim Hamilton earlier mentioned to me.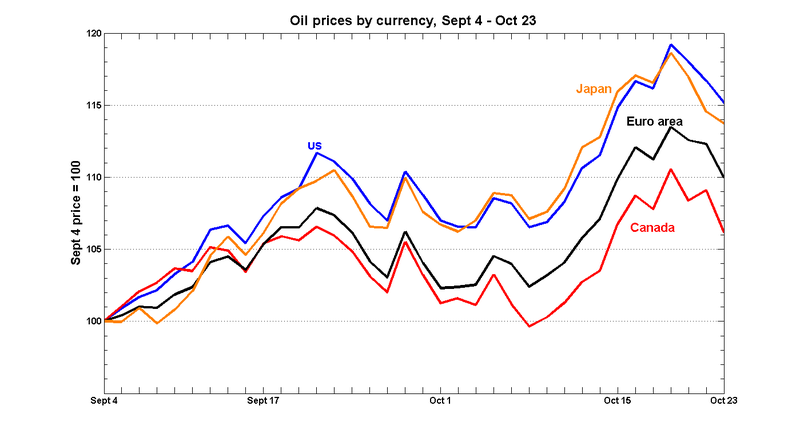 Technorati Tags: dollar,
oil prices,
commodities,
monetary policy