So how worried should you be?
Freddie Mac said today that not only did it lose $1.2 billion in the third quarter, but it bounced up against capital requirements imposed by federal regulators, forcing it to sell $45 billion in loans in September and October….

Freddie Mac estimated its core capital at the end of the quarter was $34.6 billion– a mere $600 million above the 30 percent capital surplus requirement set by the Office of Federal Housing Enterprise Oversight (OFHEO).

If it can't raise more capital– one move being considered is to cut shareholder dividends by 50 percent– then Freddie executives say they may have to limit growth or reduce the size of the company's retained loan portfolio, and slow down the pace at which it guarantees loans.

Fannie Mae, which on Nov. 9 reported $1.4 billion in third-quarter losses, has a little more leeway– its core capital at the end of the third quarter was $41.7 billion, or $2.3 billion above OFHEO's requirements.
The price of Freddie stock fell 29% yesterday, with the company's market value now less than half of what it was a few months ago.
Fannie shares were battered almost as severely.
To explore what this might mean, let's begin with a little background. Both Freddie and Fannie were initially created by the U.S. Congress with the goal of expanding the residential mortgage market. They are for this reason referred to as "government-sponsored enterprises", or GSEs, even though both eventually were converted into private companies for which there is today no explicit government guarantee of their debt. InmanBlog points us to the 2007 Performance and Accountability Report from OFHEO, the government office responsible for regulation of the GSEs, which includes some nice graphics to illustrate what's at stake.
After a homeowner has borrowed money to buy a home, the original lender likely resold that loan to Fannie or Freddie. The GSE in turn collected some of those mortgages in a pool which was sold in the form of mortgage-backed securities (MBS) to private investors, for which the GSEs collect a fee in exchange for guaranteeing payment on the MBS. Other mortgages purchased by the GSE are held directly by the GSE for its own investment portfolio. The GSEs obtained the funds for these investments primarily with money borrowed directly from private investors, which instruments are referred to as "agency debt". The total volume of mortgages either held outright by the GSEs or packaged and resold by them as mortgage-backed securities has tripled over the last decade, currently standing at around $4.7 trillion. That's about the size of the total publicly-held debt of the U.S. Treasury.
Of the loans held by the GSEs outright, a significant chunk is in the form of MBS issued by private enterprises outside the GSEs, $170 billion of which represents securities derived from subprime mortgages.
Composition of the GSE portfolios as of September 30, 2007. Source: OFHEO.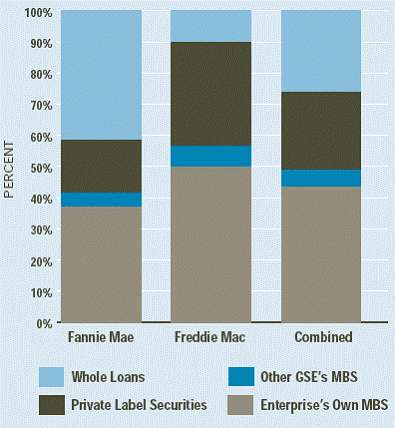 And how big a loss might the GSEs expect to take on these various assets and liabilities? Since the subprime MBS aren't traded directly, we don't have a direct observation on their worth. But we can get an indirect idea from the ABX index reported by markit.com. This is an index based on the prices of credit-default swaps on about twenty different AAA-rated tranches of privately-issued subprime MBS. These credit-default swaps are essentially an insurance policy a holder of an MBS can take out against the possibility of capital loss. Felix Salmon is leery of relying on the ABX index, on grounds that there may be a hedge component in these prices and that the reference securities will likely do worse than a "typical" AAA subprime MBS. Notwithstanding, this seems like a decent way to come up with a quick ballpark figure. With the 2007-01 AAA-ABX at 72, we might guess that a holder of $170 billion in AAA subprime MBS has an expected loss in the neighborhood of $50 billion. It's not clear to me to what extent the GSEs may themselves have already purchased such credit default swaps to hedge this risk, the extent of counterparty risk in any such hedge, or how much of that $50 billion loss may have already been entered on the GSEs official accounts.
The OFHEO has been setting minimum capital requirements for the GSEs, currently at around $34 billion for Freddie. Here's a graph showing how Freddie was managing to stay above the minimum requirements set by the OFHEO up through the second quarter:
What happened is that the third-quarter losses bumped Freddie below that line, meaning they need to take steps such as cutting the dividend and selling off assets in order to satisfy the OFHEO requirement. Here's what Felix Salmon thinks about that:
because OFHEO is being strict with Freddie, it's being forced to sell tens of billions of dollars' worth of mortgages. Freddie should be part of the solution to this mortgage-bond crisis; instead, it's contributing significantly to the magnitude of the problem. Freddie should be a source of liquidity in the market, not a forced seller.

This is all wrong. The reason why capital-adequacy rules exist is to make sure that there's a cushion in times of crisis. Well, guess what– this is a time of crisis. The capital-adequacy rules should be loosened, but instead OFHEO is sticking to its decision to impose significantly tighter requirements on Freddie.

This is no time to be punishing Freddie for past accounting irregularities– or even present accounting irregularities, for that matter, if such things existed. Let's keep our eyes on the prize, people. Fannie and Freddie can and should be using their deep pockets and their mortgage expertise to buy up undervalued and fundamentally-curable distressed mortgages, both above and below $417,000, at less than the mortgages are worth but more than the market is asking.

Instead, they're dumping mortgages onto the secondary market in order to comply with OFHEO's capital-adequacy requirements. There's a time and a place for those kind of requirements, and it is emphatically not now.
Whether you share Felix's view has to depend in part on how you view the magnitude of the underlying problem. If you thought that the market was overreacting to the default risk, then the key goal of policy would be to reassure markets and provide a buyer for the currently unwanted assets, perhaps in the form of a super-SIV or further balance-sheet expansion of the GSEs such as Felix recommends. On the other hand, if you believe that big losses are ahead for all holders of mortgage debt no matter what, then maintaining solvency of the GSEs may be job 1. From either perspective, though, I think you would regard cutting (or eliminating) the GSE dividends as an unambiguously healthy and favorable development under the circumstances.
Of course, there's lots of middle ground in between. Perhaps you think we'll probably muddle through OK, unless the sale of Freddie's assets would so depress the market as to hinder extensions of new loans to creditworthy borrowers, thereby reducing home sales further, thereby depressing house prices further, thereby inducing more borrowers to default, so that we go from the good equilibrium to the bad equilibrium. But figuring out exactly where we stand currently on that slippery slope between A and B is not an easy matter.
Here's my bottom line: if Freddie cuts its dividend, that's a good thing. All the rest is worrisome.
---
Technorati Tags: macroeconomics,
housing,
gse,
Federal Reserve,
economics,
subprime,
Freddie Mac,
Fannie Mae