Why "Project Lifeline" is unlikely to help the mortgage mess.
MarketWatch reports today:
In the latest move aimed at halting a swelling and steady flow of mortgage foreclosures, six of the nation's largest mortgage lenders bowed to government pressure and joined forces Tuesday to give all homeowners who are seriously delinquent on their loans another chance.

The lenders have agreed to freeze foreclosures for a month to give borrowers and lenders time to work out a repayment plan.

Named Project Lifeline, the initiative is a step-by-step approach for homeowners who are 90 days or more behind in their mortgage payments, a circumstance that already puts them in serious risk of losing their homes. These borrowers– many of whom have not contacted their lender– could begin receiving letters from them as soon as this week.

The program is not a solution to the housing crisis but is considered a "pause" in the foreclosure process, giving homeowners an extra 30 days to work out a payment or modification program.
The premise seems to be that foreclosure must be contrary to the best interests of either the borrower or the lender, or perhaps that it is against the best interests of both. To the extent that many borrowers did not understand all the details of the loans they took out, such as the reset after the introductory teaser rate, one could certainly make a case for that interpretation.
But foreclosures are burgeoning even when teaser rates remain in effect. And a new research paper by Federal Reserve Bank of Boston economists Kristopher Gerardi, Adam Hale Shapiro, and Paul S. Willen suggests that defaulting borrowers may be perfectly rational. Their paper (which has also been discussed by Richard Green, Mark Thoma, and Arnold Kling) concludes that foreclosures result not from reset shock or income surprises, but rather are a rational response of the borrower when the value of the house falls below the value of the mortgage debt. The authors write:
house price appreciation plays a dominant role in generating
foreclosures: homeowners who have suffered a 20 percent or greater fall in house prices are
about fourteen times more likely to default on a mortgage compared to homeowners who
have enjoyed a 20 percent increase. We attribute most of the dramatic rise in foreclosures
in 2006 and 2007 in Massachusetts to the decline in house prices that began in the summer
of 2005. Subprime lending played a role but that role was in creating a class of homeowners
who were particularly sensitive to declining house price appreciation, rather than, as is
commonly believed, by placing people in inherently problematic mortgages.
To the extent that analysis is correct, a "pause" in the foreclosure process will be helpful only if house prices are finished falling. But house prices decline sluggishly in response to market pressure, given the unwillingness of many sellers to acknowledge the magnitude of their capital loss. Even if the number of homes sold were to rebound tomorrow, there would remain a large inventory of unsold homes that will continue to push prices down.
Those currently in default on mortgage loans may well be behaving rationally. Whether the same can be said for someone who believes that real estate prices will fall no further is another question.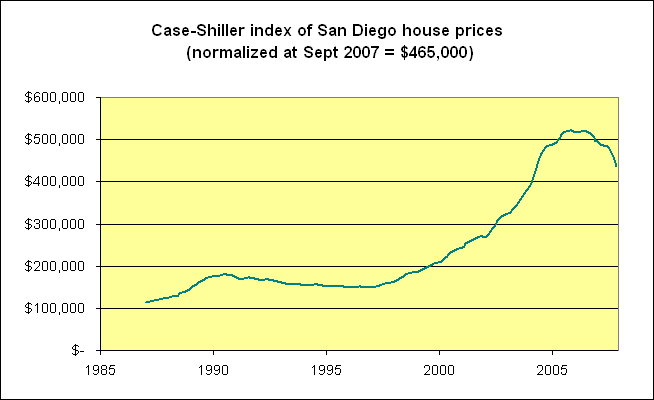 ---
Technorati Tags:
macroeconomics,
housing,
subprime