I was struck at how Federal government interest payments to the rest of the world have risen even as interest rates have fallen.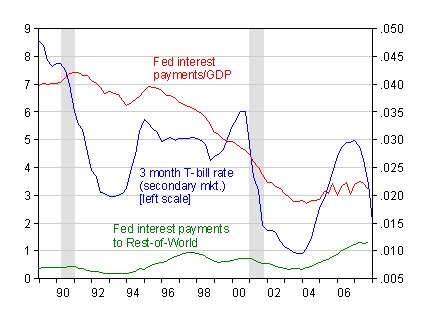 Figure 1: Federal interest payments (red, right scale) and Federal interest payments to Rest-of-World (green, right scale), and three month Treasury yields in percentage points (blue, left scale). Source: BEA, NIPA release of 27 March 2008, Table 3.2, and St. Louis Fed FREDII.
Note that we're not talking big figures: $294 billion (SAAR) in 2007Q4 for total payments, and $161.4 billion for payments to the rest-of-the-world. But what's of interest is that, rather than being an intra-country transfer, interest payments to the rest-of-the-world represent resources not made available to US residents. Of course, we benefitted from the borrowed resources which enabled US residents to consume and invest at higher levels than otherwise would be possible.
One interesting question is what will happen to this figure when interest rates rise. That is, in 2008Q4, with 3 month Treasury bill rates at 3.39%, and the ten year constant maturity rate at 4.26%, Federal interest payments expressed as a share of GDP were just over 1.1%. With most foreign holdings of Treasuries at the shorter end of the maturity spectrum, over time we should expect Federal interest payments to rise.
Just some facts to remember as various individuals [1] propose even more tax cuts.
And there is no end in sight. The CBO has just released its estimates of the full-employment and standardized budget balance. Despite the apparent bump up in FY2009, don't be fooled. That results from the assumed end of the "fix" to the AMT, and the end to the effects of the stimulus package.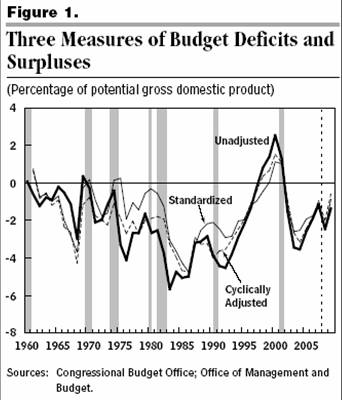 Figure 1 from CBO, The Cyclically Adjusted and
Standardized Budget Measures, April 2008. [pdf].
Since the graph depicts the full employment and standardized budget balances, if output turns out to be weaker than CBO projects in the next two years, then the budget deficits will tend to be bigger than depicted, and interest payments will tend to rise as debt accumulates faster.
Technorati Tags: href="http://www.technorati.com/tags/interest+payments">interest payments,
Treasurys,
Federal debt, deficit,
cyclically adjusted budget balance.