And released only under threat of a court order: "Scientific Assessment of the Effects of Global Change on the United States" (summary).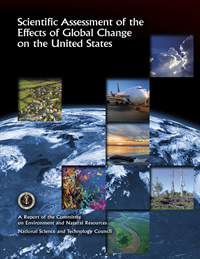 From Reuters:
NEW YORK (Reuters) – The Bush administration released a climate change assessment on Thursday — four years late and pushed forward by a court order — that said human-induced global warming will likely lead to problems like droughts in the U.S. West and stronger hurricanes.

…
This is an encouraging development for those who believe knowledge-based policymaking is a good idea. Some day, I might even see this White House admit that mercury is toxic, and we are not on the right hand side of the Laffer Curve. But one day at a time.
Here's the entire report (large PDF). [update – current link here https://data.globalchange.gov/assets/ae/2d/de96d7488c1d72a83e85f5916775/CCSP_Scientific_Assessment_Full.pdf ]