From Bloomberg:
The biggest Keynesian stimulus in U.S. history was a bust.



Incredibly, some Keynesians who supported Barack Obama's $862 billion stimulus now claim it fell short of their goals not because the idea was flawed, but because the spending package was too small.

Dr. Hassett continues by citing a 2002 study.

A 2002 study by economists Richard Hemming, Selma Mahfouz and Axel Schimmelpfennig of recessions in 27 developed economies from 1971 to 1998 found that increased spending by government had, in almost all cases, a barely noticeable impact, and sometimes a negative one. Heavily indebted countries that spent more in recessions grew about 0.5 percent less, relative to trend, than countries that didn't, the study found.

I wish Dr. Hassett had quoted additional parts of the paper because a lot of subtleties were omitted in his "summary" of the paper. In any case, I'll quote some additional passages from the same study (it's also an IMF working paper, by the way) to heighten the reader's awareness of exactly how relevant — or irrelevant — Dr. Hassett's quote is to the current episode:
Fiscal policy is Keynesian during recessions in closed economies, but
the fiscal multiplier is quite small (i.e., it is unlikely to exceed unity).




…




However, these conclusions do not preclude the possibility that, where
the circumstances are right, fiscal expansions can be an effective
response to a recession. The right circumstances would feature some or
all of: excess capacity; a closed economy or an open economy with a
fixed exchange rate; big government; expenditure-based fiscal policy;
and an accompanying monetary expansion.
Gee, well, I'd say there's slack in the U.S. economy. [1] I'd also conjecture that the US economy is pretty closed relative to the majority of other observations in the study. I think I heard there was an expenditure (as opposed to tax reduction) component in the ARRA. [2] And finally, I believe I have heard that current monetary policy is quite expansionary. [3] Apparently, Dr. Hassett was unaware that any of these conditions applied to the United States in 2009-10.
In addition, I do wonder why Dr. Hassett had to go back to 2002 to find a study (well, actually, an out-of-context quote from a specific study). In the intervening time, the IMF has conducted many large scale, cross country analyses of fiscal policy in advanced economies. [4] [5] [6] In addition, a number of surveys of the size of multipliers have been conducted and published. [7] [8]
I believe that think tank economists provide a useful purpose in providing diverse views in ongoing policy debates. However, in this case, I think I will forego Dr. Hassett's assessment, and put my faith in the assessments from private sector economists who do not have an ideological axe to grind. Below is Deutsche Bank's recent assessment of the impact of various fiscal stimulus measures on the level of GDP.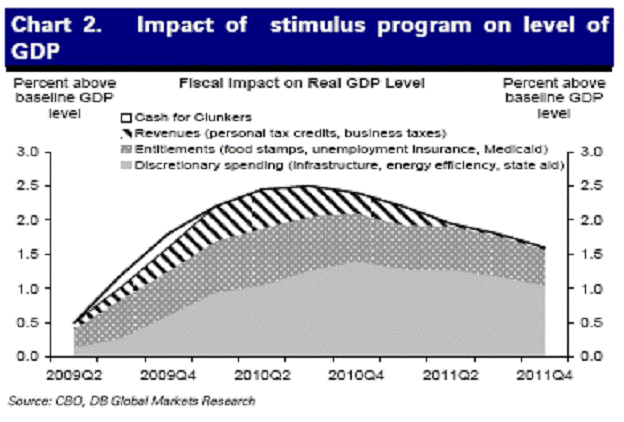 Figure 1:
Dobridge, Hooper, Slok, Sufian, "The growing risk of fiscal drag in the US,"
Global Economic Perspectives
, New York: Deutsche Bank, July 28, 2010.
And below is a graphic from an earlier post that describes private sector assessments of the impact on GDP relative to counterfactual.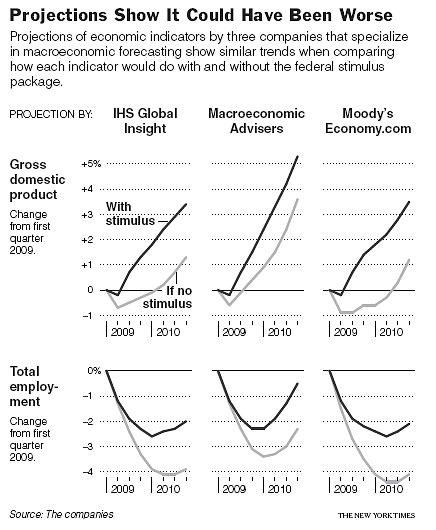 Source: J. Calmes and M. Cooper, "New Consensus Sees Stimulus Package as Worthy Step," NYT (Nov. 21, 2009).

* For those who are not aware of the reference, this is the title of: James K. Glassman, Kevin A. Hassett, Dow 36,000: The New Strategy for Profiting From the Coming Rise in the Stock Market (1999). For context, the Dow closed today at 10,040.45.