I have been working on a project with UCSD graduate student Cynthia Wu to try to assess the potential for the Federal Reserve to continue to influence long-term interest rates even when the short-term interest rate is essentially at zero. I'll be relating the conclusions from that research in a few days. But first I'd like to call attention to a new data set that we developed on the maturity structure of publicly-held debt which may be of interest to other researchers. As Paul Krugman likes to warn, this one is just for the wonks.
We began, as do Greenwood and Vayanos (2010), with CRSP data for outstanding Treasury debt by individual CUSIP number to calculate outstanding nominal Treasury debt on different securities at the end of each month. We found numerous discrepancies between the sum of these individual entries and the sum of nominal bills, bonds, and notes recorded in the Haver database, which we were able to attribute to assorted data entry errors and omissions in the CRSP database. We were able to identify and correct these errors so as to reduce almost all discrepancies to less than $200 M by hand comparison of the CRSP numbers with individual copies of the Monthly Statement of the Public Debt of the United States. From these we were able to construct the face value of non-TIPS marketable outstanding debt with maturity measured in weeks from the last Friday of the month, rounded up.
We separately constructed rough estimates of how much of the securities of each maturity were held by the Federal Reserve. The resulting data structures for outstanding Treasury debt and Fed holdings take the form of (240 x 1577) matrices, with rows corresponding to months (ranging from January 31, 1990 to December 31, 2009) and columns corresponding to maturity in weeks up to 30 years. The following figure displays the information from the December 31, 2006 rows of these two matrices.
Maturity structure of U.S. federal debt as of December 31, 2006. Horizontal axis: maturity in weeks. Black bars: face value of marketable nominal Treasury securities of that maturity, in millions of dollars. Red bars: imputed holdings of the System Open Market Account of the U.S. Federal Reserve.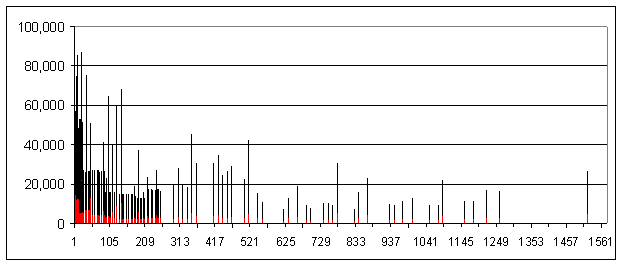 The next graph provides a sense of some of the time-series variation, plotting the average maturity of debt held by the public for each month. Average maturity dropped temporarily in the mid-1990s and began a more significant and sustained decrease after 2002, rising again with big issues of long-term debt beginning in the fall of 2008.
Average maturity in weeks of nominal marketable Treasury debt held by the public, plotted monthly from Jan 31, 1990 to December 31, 2009.


Our database also includes other items that may be of interest to researchers, such as daily constant-maturity Treasury yields and some measures we developed from the maturity structure that both theory and empirical analysis suggests can be helpful for predicting changes in interest rates for different maturities. Click here to access the database.