That was the title of a seminar at the annual IMF-World Bank meetings I participated in last Thursday (agenda here).
Also on the panel were People's Bank of China Deputy Governor YI Gang, and Asia-Pacific Department Senior Adviser Nigel Chalk. Anoop Singh, the director of the Asia-Pacific Department introduced the panel and summed up, while Jeremy Marks from the External Relations Department moderated.
The proceedings highlighted the larger aspects of China's development strategy (which is much more extensive and complicated than just the exchange rate regime), as well as the familiar concerns with the value of the Chinese yuan.
My presentation is here. I emphasized the fact that, while there were many facets to a successful strategy to adjusting to a world of slower growth, exchange rate adjustment was one important measure that could be implemented more rapidly than other — perhaps more important — policies. One key graph is here: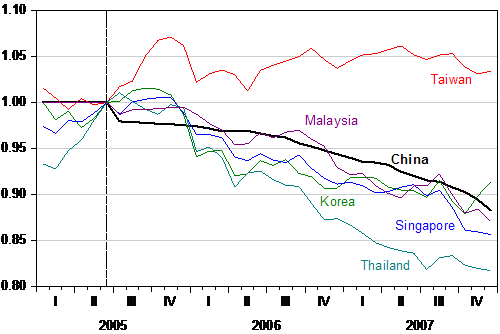 Figure 1:
Chinese yuan (black), and other East Asian currencies against the USD, all normalized to 2005M06=1. "Down" is defined as appreciation. Source: IMF, International Financial Statistics, St. Louis Fed FRED II, and author's calculations.
Among many other items, Deputy Governor Yi noted a commitment to stabilizing and shrinking the current account balance as a share of GDP over time.
Other coverage of this discussion surrounding this issue at the Bank-Fund meetings here: [WSJ1] [Bloomberg1] [Bloomberg2] [FT] [WSJ2]. Other China-related Econbrowser posts here.