Some reflections on the new Ryan plan.
The CBO provides some numbers (it's not a "score"), with a caveat:
At the request of the Chairman of the House Budget Committee, Congressman Paul Ryan, the Congressional Budget Office (CBO) has calculated the long-term budgetary impact of paths for federal revenues and spending specified by the Chairman and his staff. The calculations presented here represent CBO's assessment of how the specified paths would alter the trajectories of federal debt, revenues, spending, and economic output relative to the trajectories under two scenarios that CBO has analyzed previously. Those calculations do not represent a cost estimate for legislation or an analysis of the effects of any given policies. In particular, CBO has not considered whether the specified paths are consistent with the policy proposals or budget figures released today by Chairman Ryan as part of his proposed budget resolution.
In other words (as stressed by Ezra Klein), Representative Ryan specified revenues and expenditures, and told CBO to calculate how the debt trajectory would change as a consequence. Thus, CBO did not "score" the plan, exactly because so much was unspecified. In this respect, it shares a lot with Romney's plan, but even more so. This is also very much like the previous iteration of the Ryan plan. I would call this "constructive ambiguity", except it seems completely unconstructive to me.
Klein summarizes the can opener:
Ryan tells CBO to assume his tax plan will raise revenues to 19 percent of GDP and then hold them there. He tells them to assume his Medicare plan will hold cost growth in Medicare to GDP+0.5 percentage points. He tells them to assume that spending on Medicaid and the Children's Health Insurance Program won't grow any faster than inflation. He tells them to assume that all federal spending aside from Medicare, Medicaid and Social Security will fall from 12.5 percent of GDP in 2011 to 3.75 percent of GDP in 2050.
So everything from food stamps to defense to the NOAA and USGS (think tornado alerts and earthquake alerts) amounts to no more than 4% of GDP) by 2050, in the Ryan budget.
Well, one can still estimate what would happen if tax rates were reduced, but none of the unspecified tax expenditures eliminated. This is what the Joint Brookings-Urban Tax Policy Center has done: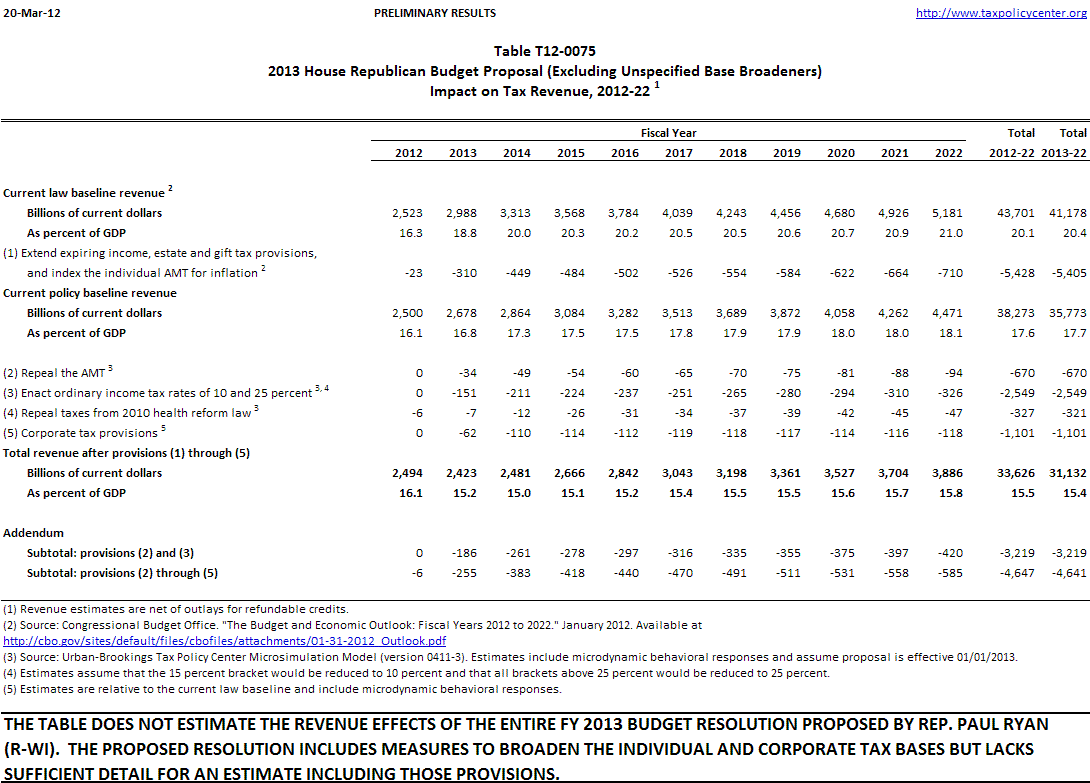 This scoring is visualized by the Center for a Responsible Federal Budget, hardly a leftist organization.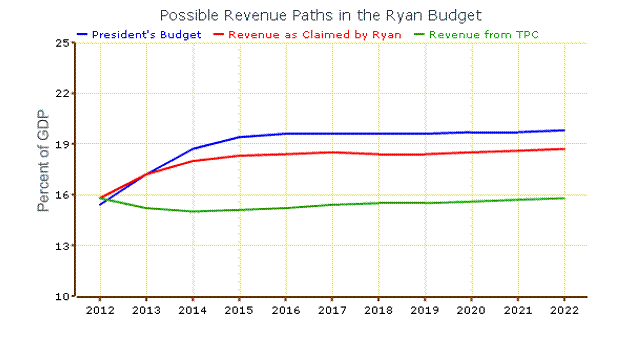 Figure 1
from
Center for a Responsible Federal Budget
.
Let me say upfront that this scoring doesn't include tax revenue responses of either a Keynesian or supply side sort due to behavioral changes. I am confident that if one were to include the supply side responses incorporated in the Heritage Foundation's analysis of the earlier Ryan Plan, then the circle could be squared! All one needs is some price elasticities many times larger than those in the extant literature, and et voila – a supply side miracle and a debt-to-GDP reduction as government spending is decreased. As I noted in this post, an elasticity about ten times that cited in the literature would do the trick.
More on the Heritage Foundation's "analysis" of the previous Ryan plan here and here.
Speaking of Representative Ryan's economic analyses, I am still awaiting massive crowding out due to government borrowing pushing up interest rates. [1]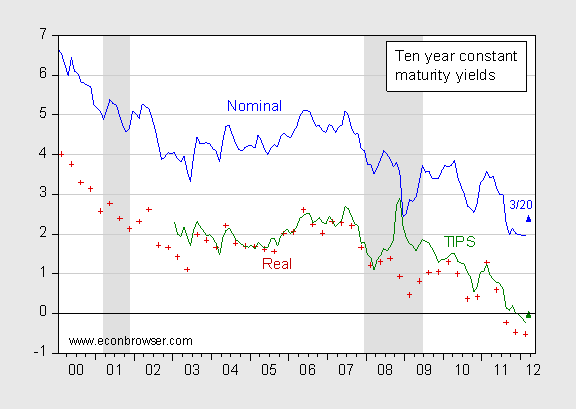 Figure 2:
Ten year constant maturity yields (blue), expected real (red +), and TIPS (green), percent, monthly averages. Observations for March are 3/20. Expected real calculated by subtracting mean ten year expected inflation, from Survey of Professional Forecasters. NBER defined recession dates shaded gray. Source: St. Louis Fed FRED and SPF from Philadelphia Fed.
Currently, ten year real interest rates on US government debt appear to be approximately zero, even after the recent surge in yields (see the RA/Free Exchange for thoughts on that event).
For more on the Ryan plan, see Tax Vox, CBPP, Economist Mom, and OMB Watch.
* This is a reference to a famous economist joke, as recounted here.