The BEA released today its estimate of 2012 fourth-quarter real GDP, which declined slightly from the third quarter. How scary is that?
The biggest drags came from a drawdown in inventories and decline in government spending. The former could reflect business concerns about the future, though the preliminary inventory estimates often see substantial revision. And the drop in defense spending relative to Q3 was in part an echo effect of the temporary surge in Q3 spending that came in prior to uncertainties about fiscal cliff negotiations. Taking these two factors out, real private demand grew at a 2.5% annual rate during the fourth quarter.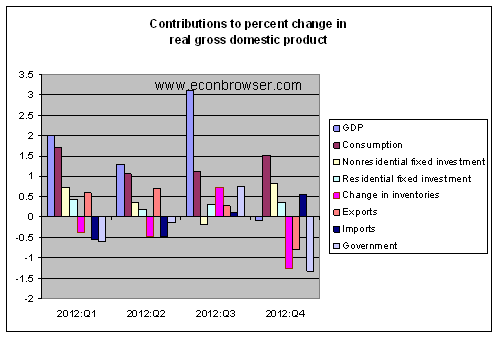 Weak exports suggest that Europe's problems are starting to take a toll on U.S. businesses, but there's some counterbalancing good news coming from increases in nonresidential fixed investment and new home construction. The upturn in house prices suggests the latter will continue. Private consumption spending was also solid in Q4. However, the Conference Board's index of consumer confidence declined in January, and the recent payroll tax increases hit consumers with a new headwind going into Q1.
The new GDP estimates did not have much of an effect on our
Econbrowser Recession Indicator Index. This now stands at 8.2%, up only slightly from the previous quarter. For purposes of calculating this number, we allow one quarter for data revision and trend recognition, so the latest value, although it uses today's released GDP numbers, is actually an assessment of where the economy was as of the end of the third quarter of 2012. The index would have to rise above 67% before our algorithm would declare that the U.S. had entered a new recession.
GDP-based recession indicator index. The plotted value for each date is based solely on information as it would have been publicly available and reported as of one quarter after the indicated date, with 2012:Q3 the last date shown on the graph. Shaded regions represent dates of NBER recessions, which were not used in any way in constructing the index, and which were sometimes not reported until two years after the date.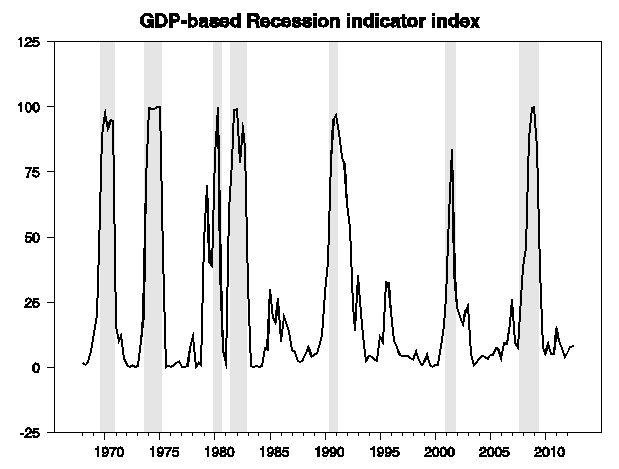 So although the headlines may sound scary, I do not think the GDP report changes the underlying fundamental picture. We knew that fiscal contraction, developments in Europe, and Hurricane Sandy would exert a drag on the economy, and they did. We knew that housing would help a little, and it has. The reasonable expectation is still to anticipate positive but below-normal growth for the first half of 2013, and hopefully a better picture for the second half.
Or if you don't want to take my word for it, check out Calculated Risk, Free Exchange, Capital Spectator, and
the economists surveyed by Sarah Portlock, whose assessments are similar to my own.