Private nonfarm payroll employment in continues to rise, by 166,000; December 2012 employment is revised up by 0.6% (log terms), when incorporating the benchmark revision (0.5% for total nonfarm payroll employment).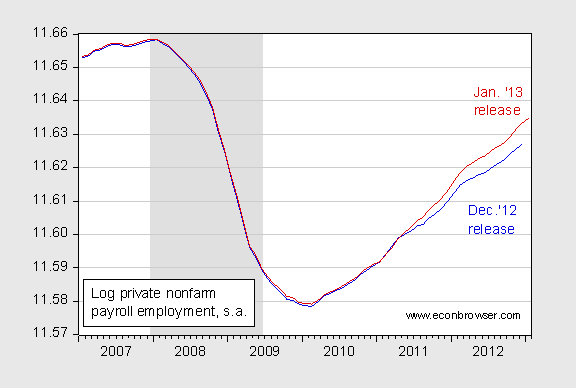 Figure 1: Log private nonfarm payroll employment, Dec. 2012 release (blue) and Jan. 2013 release (red). NBER defined recession dates shaded gray. Source: BLS.

The October through December private employment increases were raised a cumulative 133,000.
The upward revision in total nonfarm payroll employment for March 2012 was 422,000, rather than the 386,000 indicated in the preliminary release in September 2012. Hence, the upward revision was even larger than what was estimated just four months ago.
See also [Economists View], [CR1], [CR2], [Izzo/WSJ RTE], and [Casselman/WSJ RTE], [DeLong], and [Ip/Free Exchange].