From the MacIver Institute, "The Free Market Voice of Wisconsin":
Secretary Reggie Newson, Department of Workforce Development, and John Koskinen, Chief Economist for the Department of Revenue, both gave testimony that Wisconsin is heading in the right direction.


This is in contrast to two years ago where Wisconsin had lost over 150,000 jobs, Newson explained. "Based on all the indicators we look at, the state is moving in the right direction. We are adding jobs here in the state of Wisconsin."




. . .




Though Koskinen could not give an exact ranking based on the revised numbers, he explained the Wisconsin had some of the largest gains in the country over the previously reported numbers. The improvement in the revised data was better than all of Wisconsin's neighboring states.
Interestingly, as I noted in an earlier post, Wisconsin's employment growth – even after incorporating the large upward revisions – lagged far behind that of its neighbors.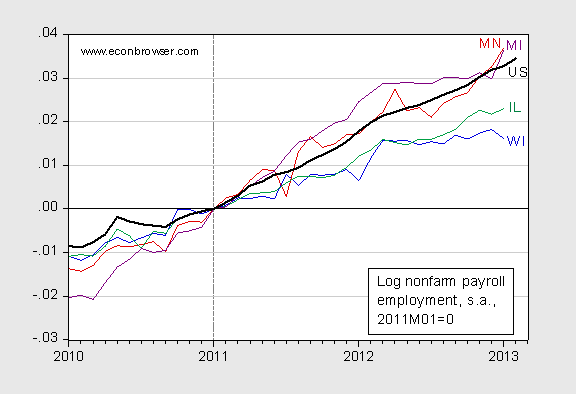 Figure 1:
Log nonfarm payroll employment for Wisconsin (blue), Minnesota (red), IL (green), Michigan (purple), and United States (black bold), normalized to 2011M01=0. Source: BLS, March 18 release, and author's calculations.
Newly released coincident indices from the Philadelphia Fed provide another perspective on Wisconsin's relative performance: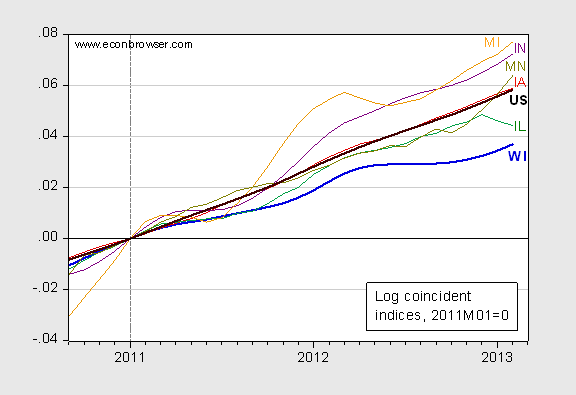 Figure 2:
Log coincident indices for WI (blue bold), IL (green), IN (purple), IA (red), MI (orange), MN (olive) and US (black bold), rescaled to 2011M01=0. Source:
Philadelphia Fed
(April 2 release), and author's calculations.
Wisconsin economic activity lags all its neighbors, and slightly more than 2 percent cumulatively since 2011M01 vis a vis the US. Note that Wisconsin lags more than 2 percent against MN, (the state which Department of Revenue Chief Economist John Koskinen highlights in his powerpoint presentation [slide 10]).
Update, 4/4, 2:15PM Pacific: Discussion of the MacIver Institute, and other regional think tanks, here.