Macroeconomic Advisers estimates second quarter growth at around 0.6% SAAR. [0] Is it because of the sequester and the ending of the payroll tax rate reduction? In part, Jeff Frankel thinks so; see also [1]. Macroeconomic Advisers had predicted something over a 1% reduction in growth rate (SAAR) relative to baseline in the second quarter [2]
Figure 1 depicts the stakes. Nowcasted GDP growth has slowed dramatically: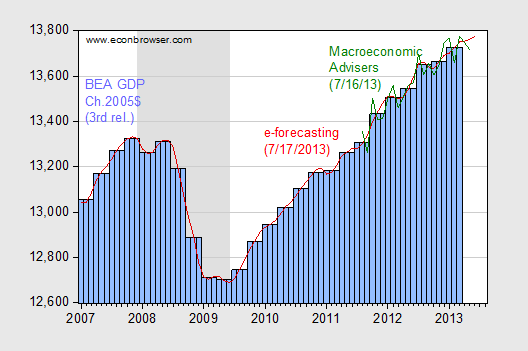 Figure 1:
GDP (blue bars), e-forecasting 7/17 estimate (red), Macroeconomic Advisers 7/16 estimate (green), all in billions of Ch.05$, SAAR. NBER defined recession dates shaded gray. Source: BEA, 3rd release, e-forecasting, Macroeconomic Advisers, and NBER.
Three quarters of the MA estimated 0.6% growth in Q2 June is associated with personal consumption expenditures and net exports. What is the impact of reductions in government outlays and increases in receipts? CBO reports monthly data on the Federal series. In its June 2013 Monthly Budget Review, it's noted that through the first nine months of the fiscal year, the deficit is $392 billion smaller than the corresponding time period in FY 2012. In principle, one would want to know what happened to the structural budget deficit, but this number is still informative.
In fact, the Federal government ran a surplus in June 2013; adjusting for timing, the June 2013 balance was $102 billion less than recorded in June 2012. Of this, $75 billion was accounted for by reduced outlays.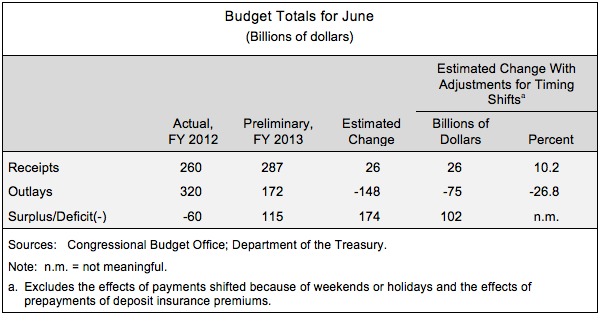 Source:
CBO, Monthly Budget Review, June 2013
.
For the first three quarters of FY2012, big contributors to the decline in outlays are defense and unemployment insurance. Note these numbers are not at annual rates (AR).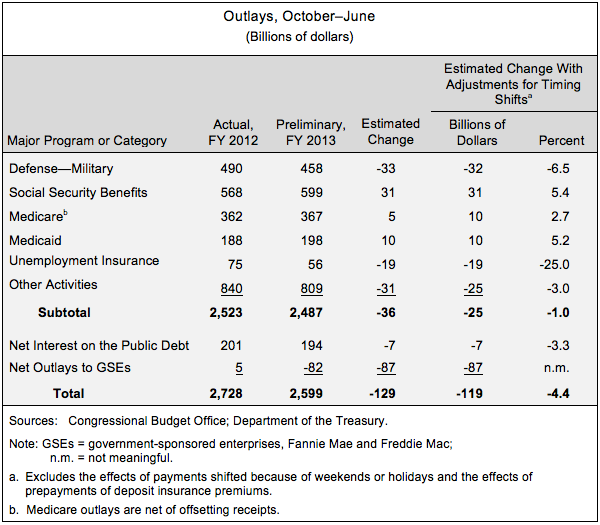 Source:
CBO, Monthly Budget Review, June 2013
.
Both types of spending should have relatively large multipliers: the first because defense is largely devoted to expenditures on goods and services, the second because the marginal propensity to consume of households receiving UI payments is likely to be close to unity. CBO estimates are presented below: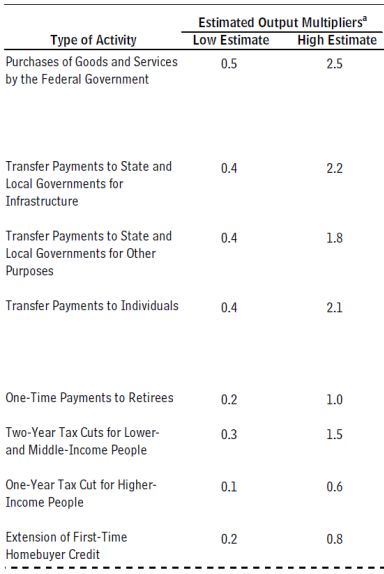 Table 2
from
CBO (2012)
.
In other words, no time for either contractionary fiscal or monetary policy.
Side note: These numbers indicate that for the first three quarters of FY2013, nominal Federal spending is decreasing, contra W.C. Varones (who hangs on to his innumeracy proudly) and Ricardo/RicardoZ/DickF/Dick.
Update, 6PM: See also Rampell/Economix on employment effects of the sequester.