The Philadelphia Fed coincident indices for October are out. Figure 1 presents the log series, normalized to January 2011 = 0.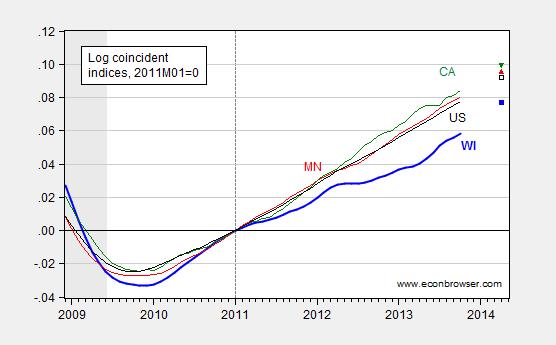 Figure 1: Log coincident indicators for Wisconsin (bold blue), Minnesota (red), California (green) and United States (black), all normalized to 2011M01=0. Observations for 2014M04 are implied by leading indicators. NBER defined recession dates shaded gray. Sources: Philadelpha Fed [1] [2], accessed on 5 Dec 2013, NBER and author's calculations.

Note that using the figures from the Philadelphia Fed's leading indicators, Wisconsin will continue to lag the US, as well as Minnesota and California.
The Wisconsin employment outlook is discussed in this post.