Japan edition
Inflation and output are up. So too is gross fixed capital investment. The yen is weaker, and the real quantity of net exports is higher.
GDP is up 1.9% q/q on an annualized basis in 2013Q3; it is up 2.6% y/y.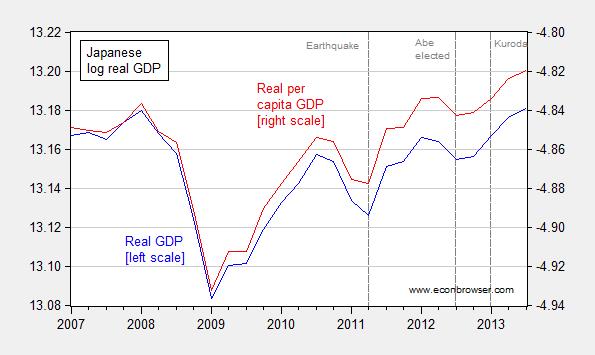 Figure 1: Log level of Japanese GDP in Ch.05Yen (blue, left scale), and log per capita terms (red, right scale). Per capita calculated using population 15 and over, seasonally adjusted. Source: Japan Cabinet Office, FRED, and author's calculations.
What's of interest is that a measurable proportion of growth has been accounted for (in a mechanical sense) by government consumption and investment. This has been particularly noticeable in the last two quarters.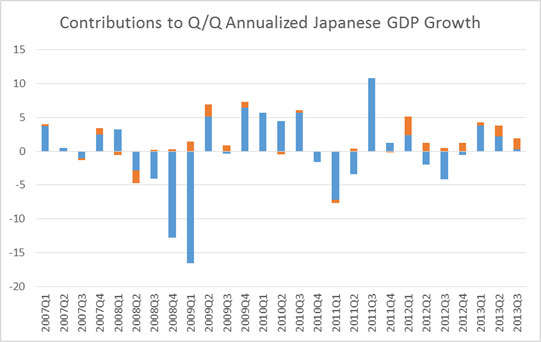 Figure 2: Contributions to real quarter-on-quarter annualized Japanese GDP growth, annualized, from government consumption and investment (orange), and all else (blue), in percent. Source: Japan Cabinet Office, and author's calculations.
The government is planning to increase spending in anticipation of a sales tax hike [0].
Private investment was not the biggest contributor to growth; it accounts for 0.4 percentage points of the 1.9 percentage points growth. That being said, this represents a change from before Abenomics, when it accounted for -1.7 percentage points of the -3.7 percentage points of growth in 2012Q3. Morever, investment — including government investment — is increasing.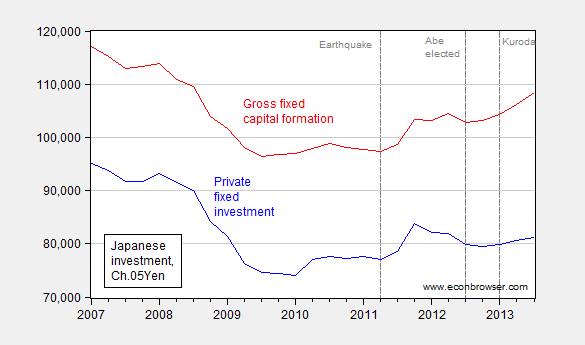 Figure 3: Real private investment (blue) and real gross fixed capital formation (red). Japan Cabinet Office, and OECD via FRED.
There is an interesting question regarding measurement of quantities; while real private investment (approximated by summing residential and nonresidential investment) rose an annualized 2.4% in 2013Q3, nominal investment rose 4.0%. On an annual basis, the numbers are 1.6% and 2.9% respectively (all calculations in log terms). (I don't have any particular information regarding investment revisions; discussion of GDP revisions is here)
How much of these real economy effects are due to the expansionary monetary policy conducted under BoJ head Kuroda? One notable fact is the acceleration in inflation. Year on year inflation using several price indices is shown in Figure 4.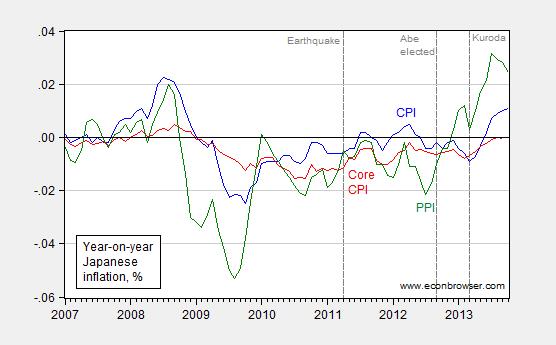 Figure 4: Year-on-year inflation using CPI-all (blue), core CPI, nsa (red), and PPI finished goods (green), all calculated using log differences. Source: OECD via FRED, and author's calculations.
Inflation helps in adjustment of relative prices, and perhaps more importantly in Japan, relaxes collateral constraints by eroding nominal yen-denominated liabilities, and by changing expectations of future prices. (Some of these mechanisms are described here and here. Other measures of core exhibit acceleration as well [1]
Expectations matter as much as actual inflation. Some measures of heightened inflation expectations from the NY Fed's Mandel and Barnes, as well as Krugman's variant, confirm that there's already been some success. It seems to me that these observations should be taken into account by those skeptics of unconventional monetary policy.
However, the consensus seems to be that most of the boost to economic activity is coming from external developments. The expansionary monetary policy has apparently induced a real depreciation in the yen's trade weighted value.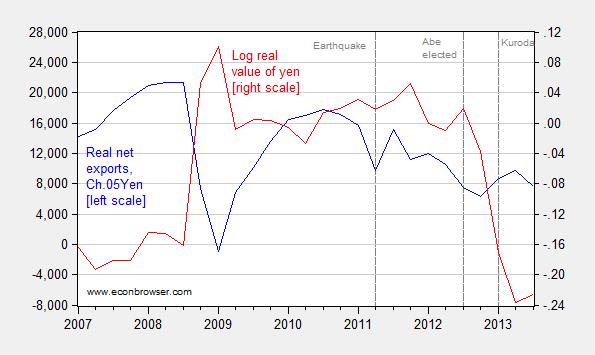 Figure 5: Real net exports, Ch.05Yen (blue, left axis), and log real trade-weighted value of yen, (red, right scale). Value of yen deflated using unit labor cost. Source: Japan Cabinet Office and OECD via FRED.
Real net exports have increased since the last quarter of 2012. While the increase is modest, it is an increase; in contrast, in nominal terms, net exports continue to decline in both absolute terms, and as a share of nominal GDP. This is important to keep in mind, given the rise in energy prices, and Japan's increased dependence on energy imports in the wake of the nuclear power plant crisis at Fukushima Daiichi. More on trade effects here and here.
Analysts see a positive outlook for exports; from Reuters:
"U.S. private-sector demand remains strong and European economies appear to be bottoming out. If advanced economies recover, Japanese exports can rise more," said Takeshi Minami, chief economist at Norinchukin Research Institute in Tokyo.
The volume of exports to the United States and European Union grew 5.3 percent and 8.0 percent year-on-year in October respectively, while Asia-bound shipments rose just 2.0 percent, highlighting a two-track recovery in the global economy.
Car shipments rocketed 31.3 percent on-year in October, making the biggest contribution to the value of exports in the month, while they also rose a strong 7.5 percent in volume terms.
Highlighting brisk demand in the United States, Toyota Motor Corp (7203.T) is racking up strong sales in the U.S. market and closing in on a record profit set before the Lehman crisis, while reaping the benefits of a weak yen that has boosted its profit margins.
Based on these observations, a reasonable conclusion is that expansionary monetary and fiscal policy work, even in a highly indebted country such as Japan. Whether these policies ultimately lead to a durable recovery depends on a number of factors, not the least is the strength of the world economy. (Deployment of the "third arrow", structural reform, isn't seen as critical by Roubini, for instance.)
Further monetary stimulus is being considered; additional action is likely if next year's sales tax hike noticeably slows growth. [2] More on the Japanese program in the IMF's Article IV consultation report, from August.