Figure 1 shows private employment relative to trend implied by Governor Walker's pledge of August 2013 to create 250,000 net new jobs; Figure 2 shows employment normalized to January 2011 for Wisconsin, as compared to Minnesota and the Nation.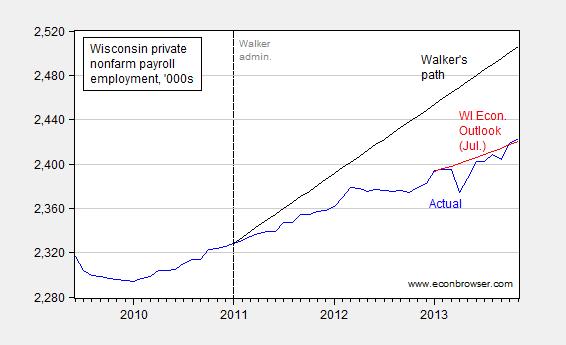 Figure 1: Private nonfarm payroll employment for Wisconsin, seasonally adjusted (blue), July 2013 Wisconsin Economic Outlook forecast, interpolated from annual data using quadratic match (red), and Walker's promised path for private NFP (black). Source: BLS, Wisconsin Economic Outlook, and author's calculations.
As of November, private nonfarm payroll employment in Wisconsin is 83 thousand below the trend consistent with the 250,000 net job creation target recommitted to by Governor Walker back in August of 2013.
It is useful to compare employment trends, against a regional comparator, as well as a state pursuing a different fiscal policy.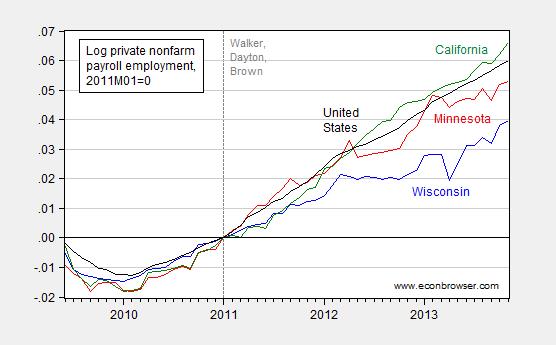 Figure 2: Log private nonfarm payroll employment for Wisconsin (blue), for Minnesota (red), for California (green), and for the United States (black), all 2011M01=0. Source: BLS, and author's calculations.
Wisconsin continues to lag, with the gap opening up between Wisconsin and Minnesota starting in 2011, in this graph.