Somewhat of a surprise, nonfarm payroll employment increased only 74,000 in December, according to estimates from the BLS. Private NFP increased 84,000.
The number was somewhat surprising given the high private NFP numbers released by ADP on Wednesday. On the other hand, anybody with an acquaintance with the BLS data knows that the series is subject to some considerable revision (not even taking into account benchmark revisions). Over the 2003-2013 period, the mean revision going from the first release to the third is 12,000, while the mean absolute revision is 46,000.
Second, with the January employment situation release (in early February), the NFP series will be benchmarked-revised. Based on the preliminary benchmark revision, the series will be revised upward approximately 235,000.
Taking these two obserations into account, one can see what the overall establishment picture looks like.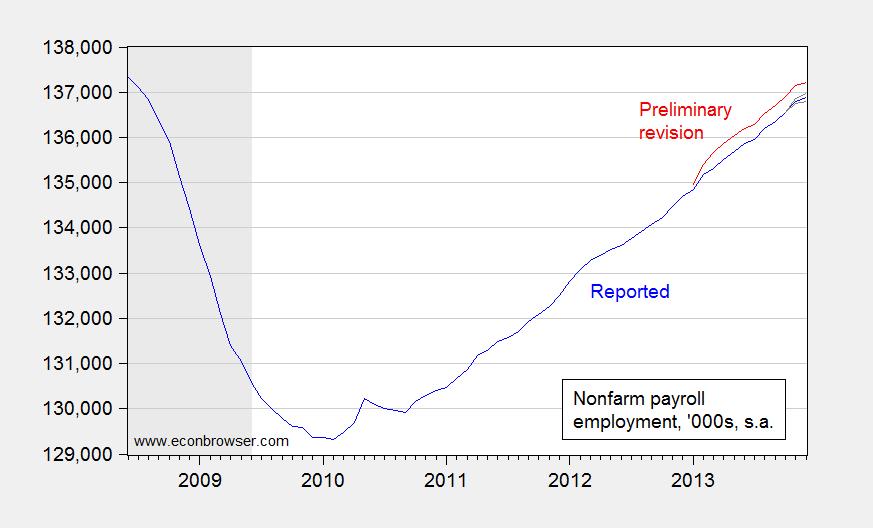 Figure 1: Nonfarm payroll employment (blue), predicted benchmark revision based on preliminary benchmark revision of March 2013 (red), and plus/minus 2 mean absolute revision bounds for 2013M12 first release and 2013M11 second release (gray). Source: BLS via FRED, BLS, BLS, NBER, and author's calculations.
In other words, one shouldn't take the exact number to heart; upcoming month-to-month revisions plus the shift in the level associated with the benchmark (due to more complete tax data) will likely mean a substantially altered number come next month.
Other takes on the release, from Furman/CEA, Stone/CBPP, McBride/CR, Ip/Economist FE Shah/WSJ RTE, Morath/WSJ RTE, and Izzo/WSJ RTE
Update, 1/15, 10AM Pacific: Reader Jack Coupal asks if "somewhat of a surprise" was a typo on my part. The answer is no, given the magnitude of the typical revisions, depicted by the plus/minus two mean absolute revisions (1st-3rd). Further discussion in this WSJ RTE post by K. Madigan:
Since late 2010 (after hiring for the U.S. census skewed the payrolls numbers), the consensus forecasts have overshot the initial payroll change by a large margin (more than 80,000) on eight separate occasions. On average, the forecasters thought the payroll change would by 98,000 jobs higher than the Labor Department reported initially.
When the final revisions came through, however, the average miss shrank to 56,000. In only one case, May 11, was the final number actually worse than the initial print, and that was only by 1,000 fewer jobs. If December's revisions follow the average, the Labor Department eventually will say payrolls were up 130,000 slots last month. That's still below the expectations of 200,000 but not as head-turning as last Friday's disappointment.