The rest of the Nation continues to grow.
The Wisconsin Department of Workforce Development has released preliminary January employment figures, incorporating incorporating backward revisions to earlier months' data. [1]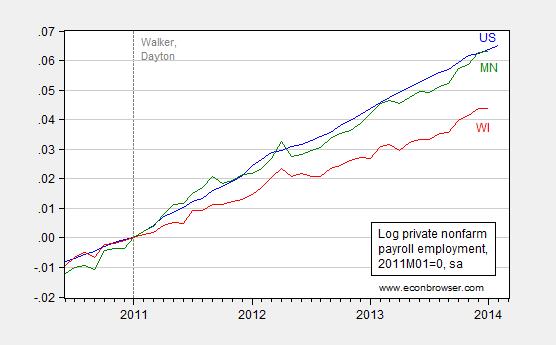 Figure 1 (rev'd): Log private nonfarm employment, seasonally adjusted, for US (blue), Wisconsin (red), and Minnesota (green). Vertical dashed line at 2011M01. Source: BLS, WI DWD and MN DEED. (MN series corrected 3/14 12:30PM — mdc)
In order to hit Governor Walker's goal of 250,000 net new private sector jobs by January 2015, 12,275 jobs per month would have to be created in each of the next twelve months. Mean job creation has been 2,868/month, with standard deviation of 3,766, since January 2011. The gap between the required monthly job creation rate and the average rate of job creation is 2.5 standard deviations. For 12,275 jobs to be created month after month for the next 12 months is therefore somewhat (!) unlikely.
Minnesota's cumulative private nonfarm payroll employment growth since 2011M01 is 1.9 percentage points higher than Wisconsin's (in log terms). Furthermore, the gap is expanding, so that over the last three months, Minnesota's (annualized) growth is 2.8 0.9 percentage points faster (correction 3/14 12:30PM).