No catch-up in sight for Wisconsin with Minnesota [1] (or the Nation, for that matter)
In a previous post, I noted that the most recent revisions had widened the gap between Wisconsin and other economies. Recently released forecasts from the Philadelphia Fed indicate the gaps will persist.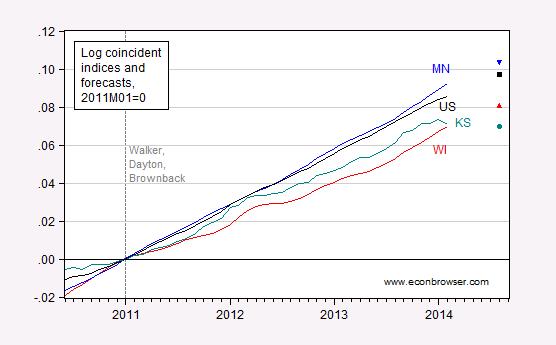 Figure 1: Log coincident indices for Minnesota (blue), Wisconsin (red), Kansas (teal) and for the United States (black), all normalized to 2011M01=0. Source: Philadelphia Fed, and author's calculations.
As noted previously, the MN-WI gap has been revised to larger in the latest dataset, and the newest set of leading indicators indicate no diminishment of the gap.
Also notable is the fact that Kansas is in something of a slump, at least according to the most recent reading on current economic activity and the leading indices (February reading -0.1%). [Some discussion of the efficacy of Kansas's fiscal policy measures here — added 4/10 7:47AM].