After the shocker of -2.9% growth (SAAR) in 2014Q1, all eyes have been on Q2. Macroeconomic Advisers released its estimate for May — a 0.2% increase on April (2% on an annualized basis).
Figure 1 presents the Macroeconomic Advisers and e-forecasting estimates, as well as the BEA official figures (3rd release).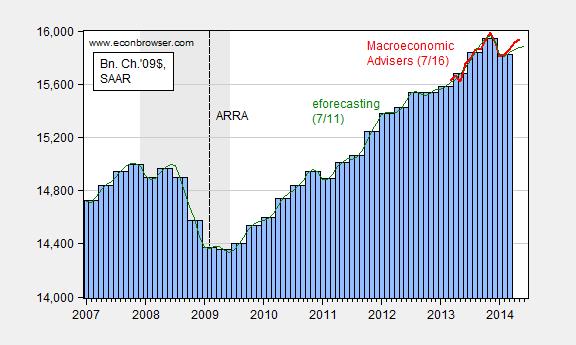 Figure 1: GDP from NIPA 3rd release for 2014Q1 (blue bars), Macroeconomic Advisers (red line), and e-forecasting (green line), all SAAR, in billions of Ch.2009$. NBER defined recession dates shaded gray. Source: BEA, Macroeconomic Advisers (7/16), e-forecasting flash estimate (7/11), and NBER.
Macroeconomic Advisers' nowcast for the quarter is 2.9% (SAAR). The Atlanta Fed's nowcast as of information available on 7/15 is 2.7%.
Side note – Philadelphia Fed now implements the Aruoba, Diebold, Nalewaik, Schorfheide, and Song GDPplus measure, which indicates a smaller than 3% decline for 2014Q1 (see Diebold's discussion here).