This is not the most erudite debate, but it pretty much sums up matters.
(h/t Vinik/TNR)
Reality check: Figure 1 below depicts the evolution of the nominal trade weighted dollar, inflation and Treasurys.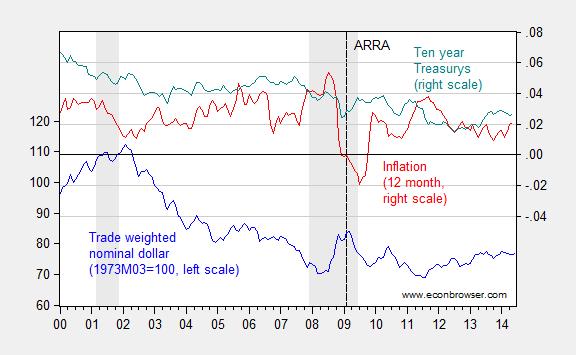 Figure 1: Nominal trade weighted value of the US dollar – broad currency basket, 1973M03=100 (blue, left scale), CPI 12 month inflation (red, right scale), and ten year constant maturity Treasury yields (teal, right scale). Inflation calculated as log differences. NBER defined recession dates shaded gray. Dashed vertical line at 2009M02, passage of American Recovery and Reinvestment Act. Source: Federal Reserve Board for exchange rate, FRED, NBER, and author's calculations.
By my viewing, the dollar has not collapsed. It's about 7.6% weaker than when quantitative easing began, while inflation and the interest rate are both lower. I think it incumbent on the Santelli's of the world to explain the intellectual underpinnings for their Weltanschauung.
Update, 10:10AM Pacific: I see I am way behind the curve. Here is Paul Krugman's take on the Liesman-Santelli exchange.
I must confess, I did find it disconcerting when the traders applauded Santelli — not surprised — just sad.