The MacIver Institute, an organization of endlessly imaginative analysis, has highlighted this LFB memo that reports that under the right conditions, the structural budget balance will be +$535 for the 2015-17 biennium.
Those assumptions include a $116 million cut to this FY's appropriations, revenues in the 2015-17 biennium would rise (annually) at the rate it has during the previous five fiscal years, 2.9%, and net appropriations in each of the years during the biennium would stay at FY2014-15 levels, "adjusted for one time commitments and 2015-17 commitments."
I am not an expert in the intricacies of budgeting (here's a start), and the evolution of Wisconsin tax revenues. However, what I can see in graph for Wisconsin here, for the period 2008-12, suggests to me that 2.9% figure is highly sensitive to sample period (gee, wonder why they picked that particular five year period?). If I use the data at the Governing website, I get a little less than 0.5% growth per annum.
In addition, the zero spending growth assumption is highly unrealistic. As Jon Peacock at the Wisconsin Budget Project wrote:
Some people who derided structural deficits in the past are now arguing that this isn't a big deal because the state can grow its way out of this problem. That's true in a sense, but also very misleading. Assuming tax collections increase as expected to about $14.4 billion in the current fiscal year, growth of 4% per year in 2015-17 would close the budget hole if total spending is frozen. But keep in mind that the spending needed for a status quo or "cost to continue" budget typically increases almost as fast as revenue – because of inflation and population growth. Thus, freezing spending in 2015-17 at the current level would not be a painless exercise; it would require significant cuts in areas like Medicaid, K-12 and higher education, and the corrections system budget.

It's also important to keep in mind that the current structural deficit calculations focus only on the General Fund and assume that in 2015-17 the state will stop transferring dollars from the General Fund to the Transportation Fund. In light of the problems in state and federal financing for transportation, there will be significant pressure to continue to make those transfers.
In other words, the LFB tabulated at the direction of State Representative John Nygren what would happen if one let revenues move, but not spending. Mechanically, it must be that the balance looks better — no mystery there. It's a well known trick, used earlier on a national stage; for more on the national version of the can opener assumption, see these posts on Ryan plan (I) and Ryan plan (II). For more on MacIver Institute analyses, see this post.
So, for me, a more honest appraisal of the situation is presented in Figure 1 below.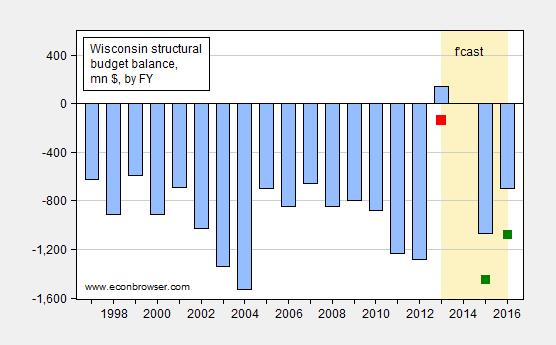 Figure 1: (Negative of) General Fund Amounts Necessary to Balance Budget, by Fiscal Year, in millions of dollars (blue bars); and estimate taking into account shortfall of $281 million for FY2013-14 (red square), and adding $380 million to each of the fiscal years in the 2015-17 biennium (green squares). "Structural" denotes ongoing budget balance, assuming no revenue/outlay change associated with economic growth. Source: Legislative Fiscal Bureau (September 8, 2014), Wisconsin Budget Project, "Wisconsin needs $760 million more for Medicaid," Channel 3000 and author's calculations.