DWD released August employment figures today. Attainment of Governor Walker's 250,000 net new private sector jobs continues to be unlikely.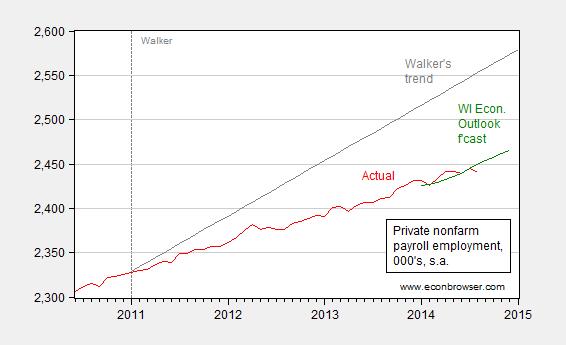 Figure 1: Private nonfarm payroll employment, s.a., in '000s (red), forecast from March 2014 Wisconsin Economic Outlook, interpolated from quarterly, using quadratic match (green), and linear trend consistent with Governor Walker's pledge to create 250,000 net new private sector jobs by end of first term (gray). Source: Department of Workforce Development, Wisconsin Economic Outlook (March 2014), and author's calculations.
Total employment did increase, attributable to a large increase in local government employment. Since August is related to the beginning of the school year, the government employment preliminary number is not particularly informative, given the difficulty in seasonal adjustment.
DWD also released Quarterly Census of Employment and Wages data through March; these figures for private employment were no different from figures released earlier, and discussed in this post. At that time, I characterized the outcome thus: "No succor from the QCEW series that the Walker Administration previously touted".
According to BLS data, based on annual changes, Wisconsin ranked 33rd in terms of private job creation. [2]