Integration, cointegration and the evaluation of time series data for public policy analysis. As my first economics teacher said, "ya gotta be careful".
Bruce Thompson at Urban Milwaukee's Data Wonk writes:
…the data shows Gov. Walker has had little impact, positive or negative, on how the state grows jobs.
Dr. Thompson appeals to data (which is good and a vast improvement over a lot of commentary), and focuses on the ratio of Wisconsin to national nonfarm payroll (NFP) employment (the documentation is unclear, but my graph using NFP looks the same as his, so I'll assume it's the establishment series and not the household series he's using). He then shows that a linear regression on the ratio over the Doyle years predicts well the evolution of the ratio in the Walker years. Here's his graph: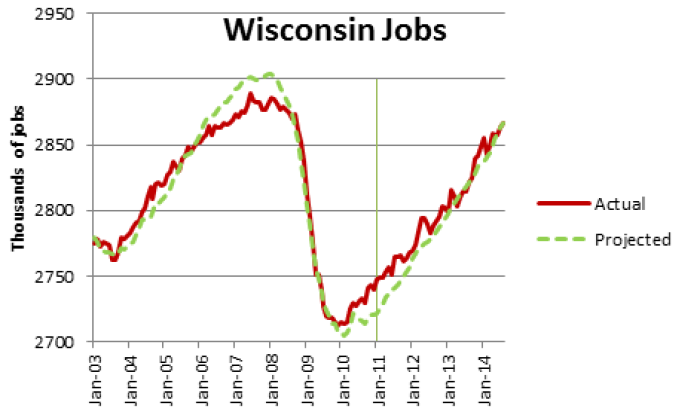 Source: Bruce Thompson, "Both Sides Wrong About Walker's Impact on Jobs," Data Wonk/Urban Milwaukee (October 20, 2014).
My first published article (in 1991!) examined the implications of inadequately addressing issues related to unit roots in estimating relationships (Beware of Econometricians Bearing Estimates). Hence, I thought it relevant to examine the validity of Mr. Thompson's approach in this context.
In fact log NFP in Wisconsin and in the US fail to reject conventional unit root tests. Moreover, the ratio of the two series (which is what Mr. Thompson uses) fails to reject the unit root null. In fact, so too does the log ratio.
Dr. Thompson is correct that Wisconsin NFP and US NFP are obviously related. The way to test for the relationship involving integrated series is to use cointegration methods. Applying Johansen's maximum likelihood method, I reject the no-cointegration null. Hence, I estimate a simple single-equation error correction model with the growth rate of Wisconsin NFP as the dependent variable (I'll assume the US series is weakly exogenous with respect to Wisconsin).
(1) Δnt = -0.0014 – 0.026×nt-1 + 0.018×nUSt-1 + 0.865×ΔnUSt – 0.282×Δnt-1 + 0.361×ΔnUSt-1 + ut
Adj-R2 = 0.53, SER = 0.0017, DW = 2.04, Obs.=216, sample 1994M01-2010M12. Bold face denotes significance at the 10% MSL, using HAC robust standard errors.
Using the DW statistic is not valid for assessing the presence of serial correlation when there's a lagged dependent variable in the regression, but Q(12) and Q(24) tests fail to reject the no-serial correlation null.
The implied long run elasticity of Wisconsin to US NFP is 0.67; using the Johansen procedure (no trend in cointegrating vector, four first difference lags) yields a long run elasticity of 0.53, while DOLS(+2,-2) yields an estimate of 0.73. The maximum likelihood and DOLS estimates indicate one can reject the null that the elasticity is unitary.
Using the estimated error correction model (ECM), I dynamically forecast out-of-sample the Wisconsin NFP. The results, along with the 90% confidence intervals are shown in Figure 1.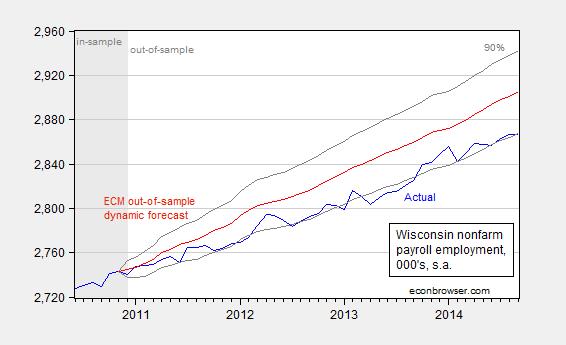 Figure 1: Wisconsin nonfarm payroll employment (blue), forecasted (red), and +/- 1.64 standard errors (gray lines). Source: BLS, and author's calculations.
The graph indicates that based on historical relationships, predicted employment has been systematically higher than actual; as of 2014M09, the mean forecast is 37,000 higher. The gap between forecasted and actual is (borderline) statistically significant.
Hence, I think it Dr. Thompson's finding that post-January 2011 Wisconsin employment is well predicted is subject to the spurious correlation critique. On the other hand, the fact that Wisconsin employment has lagged forecasted (using more appropriate econometric techniques) does not prove that the policies of the Governor are the source of the shortfall.
It is interesting that over a period that private employment has risen 5.1%, government employment has declined 0.8% (well, maybe not interesting — that was the intent of the Walker administration after all). Here is a scatterplot of the overall employment gap vs. government employment gap, where I used the a simple trend growth estimated over the 1994M01-2010M12 period (in log first differences) to forecast out the counterfactual government employment growth. Note that the decrease in government employment is associated with a decrease in employment (both relative to counterfactual).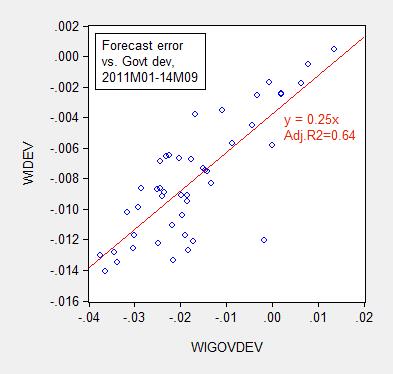 Figure 2: Wisconsin employment gap vs. government employment gap (blue circles), and fitted regression (red), over 2011M01-14M09. Counterfactual government employment estimated using log first differences on constant over 1994M01-2010M12 period. Source: BLS and author's calculations.
Even if one doesn't believe that government spending cutbacks are the source of the lagging employment growth, what is true is that stagnant economic growth, arising from conjoined tax cuts and even larger spending cuts, was entirely predictable from conventional theory, as discussed in this February 2011 post.
Update, 10/24, 6pm Pacific: See this article by Mike Ivey at the Capital Times; particular attention should be paid Dr. Dresser's analysis.