The headline number for nonfarm payroll employment was decent [1], and although there are worrisome aspects, I think the key take-away is the fact that manufacturing employment is slowing much more than overall. To the extent that manufactured goods proxies for tradables, I think caution is in order with respect to monetary tightening. And yet, I read headlines reporting that the "Fed is on track to raise rates…"[Sparshott/RTE WSJ].
My argument for deferring monetary tightening follows this sequence.



The dollar's surge coincides with manufacturing employment slowdown.

The manufacturing slowdown is even more evident in other measures.

The dollar's movements seems well explained by monetary policy.

Figure 1 illustrates the remarkable surge in the real value of the dollar against a broad basket of currencies — an approximate measure of competitiveness in a macro sense.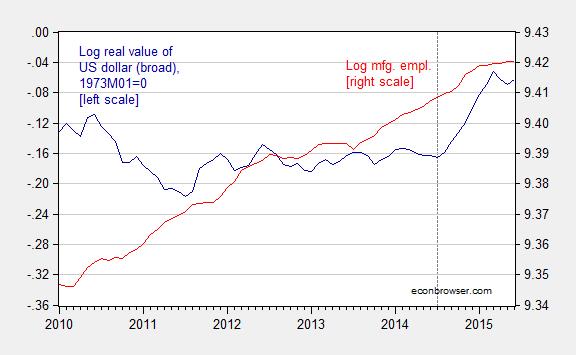 Figure 1: Log real trade weighted value of dollar (broad, 1973M01=0) (dark blue, left scale) and log manufacturing employment, seasonally adjusted (red, right scale). Dashed line at 2014M07. Source: Federal Reserve and BLS.
The manufacturing slowdown is marked in other aspects, as shown in Figure 2.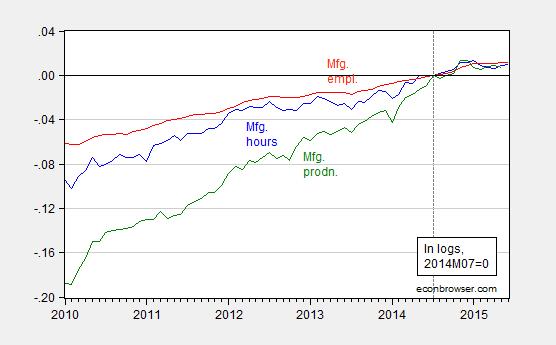 Figure 2: Log aggregate manufacturing hours (blue), log manufacturing employment (red), and log manufacturing production (green), all normalized to 2014M07=0. Dashed line at 2014M07. Source: BLS, Federal Reserve, and author's calculations.
There is always the temptation to say that exchange rates move in ways mysterious (heck, I've contributed to that literature). But I think there is a strong case to be made — stronger than usual — that monetary policy has been driving the dollar's value. Now, this point can't be verified by reference to interest differentials, given the zero lower bound. But shadow rates, which summarize anticipations of future rates, do tell a tale, as shown in Figure 3.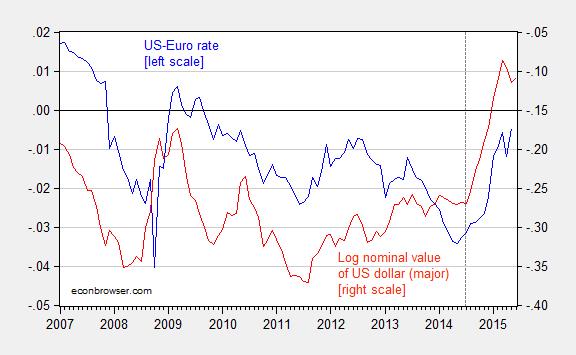 Figure 3: Shadow Fed-ECB interest differential (blue, left scale), and log trade weighted nominal value of US dollar (major) (red, right scale). Source: Xia and Wu, Federal Reserve Board, and author's calculations.
The correlation is consistent with the view that the extremely rapid rise in the dollar's value was due to perceptions of rising Fed rates against a backdrop of declining ECB rates. So, if there is anything that is likely to suppress further dollar appreciation, it would be signalling from FOMC members of a slow pace of rate rises, contra what the is being reported Hilsentrath/RTE WSJ.
In the absence of such measures, current forecasts are for more dollar appreciation (For instance, as of today, Deutsche Bank forecasts dollar – euro parity be year's end). As I noted earlier, another year of appreciation would not be surprising, given historical precedents.
More on the employment release, from [Calculated Risk], [Baker/CEPR], and [Timiraos/WSJ RTE].