In my interview with NPR's Jim Zarolli, the question came up about wage developments. Embarrassingly, I had no opinion, having not looked at the data (I know that doesn't stop some people from opining; in any case, that question and lots of other stuff didn't make it into the piece that aired). Well, I looked up the data, and surprisingly the level of real hourly earnings in May 2015 is the same as it was in January 2011(!).
Figure 1 shows the time series for average hourly earnings for all private workers, deflated by the headline CPI. If you think about it, it's pretty amazing that the real wage is the same even given the dramatic drop in energy prices in recent months.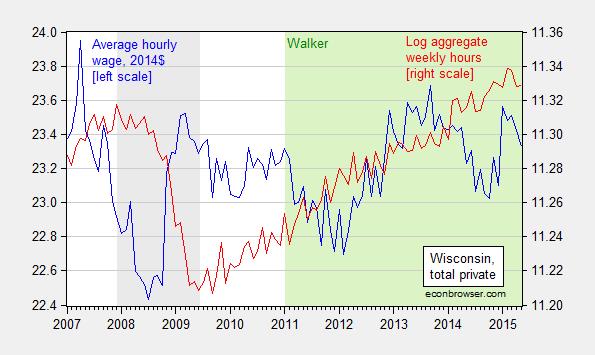 Figure 1: Average hourly earnings in 2014$, deflated by CPI all (blue, left axis), and log aggregate weekly hours, generated by multiplying average weekly hours by number of employees (red, right axis). All data pertain to all workers, private sector. Average hourly earnings and average weekly hours seasonally adjusted using ARIMA X-12 (multiplicative), executed in EViews. Gray shaded area denotes NBER defined recession dates. Green shaded area denotes Governor Walker administration. Source: BLS and author's calculations.
In contrast to Wisconsin's real hourly earnings increase of only 0.06% since January 2011, US real hourly earnings have risen 1.8%.
The other series displayed in Figure 1 is a measure of aggregate weekly hours. It's hard to say given the volatility, but it certainly seems that aggregate hours are declining over the last three months. This is troubling given that data from the household survey validates the conclusion from the establishment survey that employment is declining in Wisconsin.
As an intellectual exercise, it is interesting to ask if Wisconsin can go into a downturn while the US does not. Year-on-year civilian employment growth in Wisconsin did go negative in 1985 and 1998 even while US growth did not (there's also a short dip in 2004). Hence, it is conceivable that Wisconsin's path could deviate from the US overall.
Update, 7/15 4:30pm Pacific: If you were wondering how average hourly earnings were evolving in the US, and in Wisconsin's neighbor, Minnesota, here is the picture.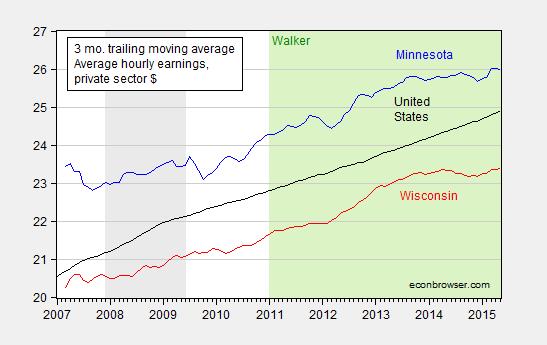 Figure 2: Three month trailing moving average of average hourly earnings, total private sector, in Minnesota (blue), Wisconsin (red), and United States (black). Wisconsin and Minnesota series seasonally adjusted using ARIMA X-12 (multiplicative factors) executed in EViews. NBER recession dates shaded gray. Walker (and Dayton) Administrations shaded light green. Source: BLS, and author's calculations.
While earnings growth has slowed in Minnesota, in contrast to Wisconsin's experience, employment and aggregate weekly hours continue to rise.