Or, "President Obama, build up this wall!"
From Fox News:
Walker said in an interview that aired Sunday that building a wall along the country's northern border with Canada is a legitimate issue that merits further review.

Republican candidates for president have often taken a get-tough approach on deterring illegal immigration, but they usually focus on the border with Mexico. Walker was asked Sunday morning on NBC's "Meet the Press" whether he wanted to build a wall on the northern border, too. Walker said some people in New Hampshire have asked the campaign about the topic.

"They raised some very legitimate concerns, including some law enforcement folks that brought that up to me at one of our town hall meetings about a week and a half ago. So that is a legitimate issue for us to look at," Walker said.
This is an interesting idea. Consider the distance that would need to be fenced in, or otherwise secured. The US-Canada border stretches over 5500 miles. Merely securing the contiguous 48 border with Canada requires putting barriers over 4000 miles.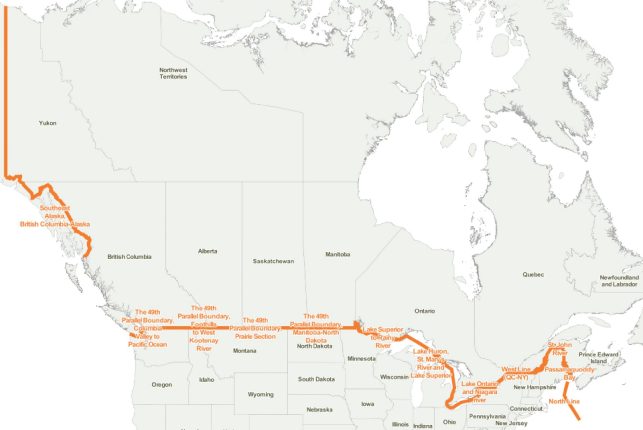 Source: Eastwood, "How much would it cost to build a wall on the Canada-U.S. border?" Toronto Star, Aug. 31, 2015.
One estimate places the total cost at $18 billion, using the average cost estimate of $5.1 million/mile. The article cites "a report by the U.S. Department of Homeland Security to Congressional committees in 2009, which examined the construction costs of building fences on the Mexican border in 2007 and 2008." Since the details weren't presented, it's hard to tell if that estimate includes costs associated with design and procurement of the land used for the wall. Other estimates of per-mile cost of building are presented in this Congressional Research Service report (pages 16-24). In addition, there is a maintenance issue, so that the present value cost is much higher than the build cost. From the CRS report:
The Corps of Engineers estimated that Sandia fencing costs per mile would range from $785,679 to $872,977 [in constant 1997 dollars] for construction and $953 to $7,628 per mile yearly for maintenance. Additionally, the Corps of Engineers study notes that the Sandia fence would possibly need to be replaced in the fifth year of operation and in every fourth year thereafter if man-made damage to the fence was "severe and ongoing." For this reason, in the study the Corps of Engineers noted that the net present value of the fence after 25 years of operation, per mile, would range from $11.1 million to $61.6 million.
To convert to 2014 dollars, one can multiply by 1.48 (the 2014 CPI level is 47.5% higher than it was in 1997).
There are two questions that come to me. The first is the cost-effectiveness of building a physical barrier that impedes pedestrians. I suspect that the benefit-cost ratio is very, very low. The second is whether it's still a bad idea. After all, spending to build something that is useless is akin to Keynes's example:
"If the Treasury were to fill old bottles with banknotes, bury them at suitable depths in disused coalmines which are then filled up to the surface with town rubbish, and leave it to private enterprise on well-tried principles of laissez-faire to dig the notes up again (the right to do so being obtained, of course, by tendering for leases of the note-bearing territory), there need be no more unemployment and, with the help of the repercussions, the real income of the community, and its capital wealth also, would probably become a good deal greater than it actually is. It would, indeed, be more sensible to build houses and the like; but if there are political and practical difficulties in the way of this, the above would be better than nothing."
[Book 3, Chapter 10, Section 6 pg.129 "The General Theory.."]
Of course, it would be even better if the spending were on something useful like investment in human capital and the like. However, the Governor seems to have an aversion to such types of expenditures that augment potential output.[1] [2]
The Governor's original statements were recorded on Sunday. On Tuesday, Governor Walker walked back his comment, as recounted in FoxNews:
"this is just a joke in terms of how people react to things" and claimed he wasn't talking about a wall.
Given it took a whole day or two for the Governor to determine he was joking, I think we should take the Governor's Sunday assertion as a true reflection of his views.
On the other hand, I don't quite have a fix on the Governor's current views on birthright citizenship; see the evolution of his views tabulated at PolitiFact.
Update, 11:30am Pacific: If you want to see if Governor Walker seems to be joking, see video and transcript here (video, see at 10 min, 38 sec). Exact text:
Todd: "Do you want to build a wall north of the border, too?"

Walker: "Some people have asked us about that in New Hampshire. They raised some very legitimate concerns, including some law enforcement folks that brought that up to me at one of our town hall meetings about a week and a half ago. So that is a legitimate issue for us to look at.
Listening to the audio and visual, I'd say Walker is not denying at all the idea of a wall on the northern border (and sure doesn't sound like he's making a joke!).