Governor Walker blames the workers.
The BLS released state level data on Friday a week and a half ago. Here is a comparison of Minnesota (blue) against Wisconsin (red).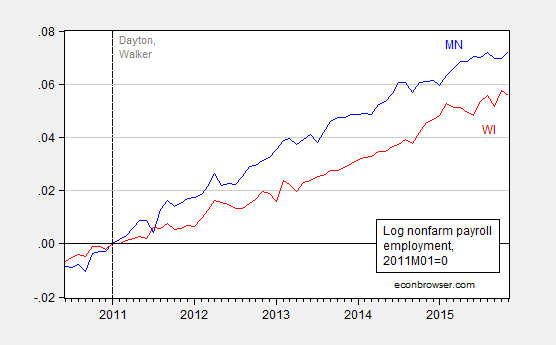 Figure 1: Log nonfarm payroll employment normalized to 2011M01=0 for Minnesota (blue) and Wisconsin (red). Source: BLS establishment survey, author's calculations.
Since Governor Walker took office, Wisconsin nonfarm payroll employment has risen 6.9%, while Minnesota employment has risen 8.4% since Governor Dayton took office. Nationwide, employment has risen 10.8% since 2011M01. Note that, as shown in this post, Wisconsin employment growth has lagged what it should under a counterfactual implied by the historical correlation between US and Wisconsin employment. Hence, one cannot appeal to differences in trends as an explanation for Wisconsin's lagging fortunes, since the cointegration methodology takes account of this issue (see this paper).
Here is Governor Walker's explanation. From WPR:
Gov. Scott Walker says Wisconsin continues to rank relatively low in job creation because not enough people are ready to join the workforce.

New data from the U.S Labor Department shows Wisconsin ranked 37th among states in adding private jobs during the 12 months ending last June, with an employment increase of 1.5 percent. Wisconsin is 32nd over the last five years.

Walker said that more companies would add jobs if more workers were job-ready.
Note that these figures cited in the article are the Quarterly Census of Employment and Wages the Governor used to cite as the "gold standard" before he stopped touting them as the gold standard.
From the conclusion to a 2013 La Follette School study written for the Legislative Council:
Our analysis of the economic indicators does not provide evidence that a skills gap exists large enough to be detected by those indicators. Our projections suggest that a skills gap may exist in a few key areas of Wisconsin's economy between now and 2020, most notably in occupations typically requiring formal education in computer science and information technology. However, we did not project an educational attainment-based skills gap in the Wisconsin economy in aggregate in the near future.
(As an aside, it seems less than optimal then to cut university level funding, as the Governor as proposed and the legislature has put into law [1] [2]).
As noted in Levine (2013), if there is a skills mismatch, one would expect to see wages to rise in order to equilibrate supply to demand.
One additional puzzling aspect of the mismatch argument (at least in formal matching models) is that while it would seem to plausibly explain the slow pace of new jobs, it has little to say about less so about layoffs. And here, there's some 'splaining to do.
Figure 2: Wisconsin cumulative mass layoff notifications by end-month, for 2015 (bold blue) and 2014 (red). December 2015 observation is for data through 12/18. Source: DWD and author's calculations.
As of December 18th, mass layoff notifications are 71% above total 2014 levels.
Finally, the newly released Philadelphia Fed coincident and leading indices suggest no succor in the near term for Wisconsin.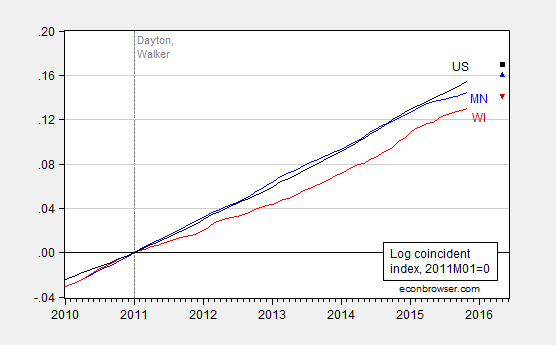 Figure 3: Log coincident indices for Minnesota (blue), Wisconsin (red), and US (black), all normalized to 2011M01=0; May 2016 observations are implied levels using leading indices. Source: Philadelphia Fed [3] [4] and author's calculations.
Update, 2:30pm Pacific: Reader Steven Kopits writes:
If one checks the list of mass layoffs, about 1000-1300 of 9500 are plausibly associated with energy or commodities.

…

A lot of layoffs are coming from old line companies, ie, Oscar Mayer laying off hot dog makers in Madison. You want hot dog manufacture in Madison? You're welcome to it.
Let me note the closure of the Oscar Mayer facility is not included in this tabulation; only the smaller cutback announced in August is (and to add insult to injury, the name is misspelled in the Excel spreadsheet).
The point that the layoff are due to the energy downturn is plausible, although I can't see it clearly in this pie chart from DWD: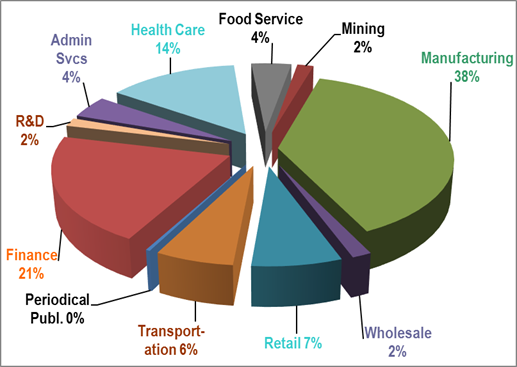 Figure 4: Wisconsin cumulative mass layoff notifications by sector, for 2015 through 12/18. Source: DWD.
Reader Joseph reminds me of Governor Walker's August 2013 promise to achieve a net gain of 250 thousand new private sector jobs by the end of his first term.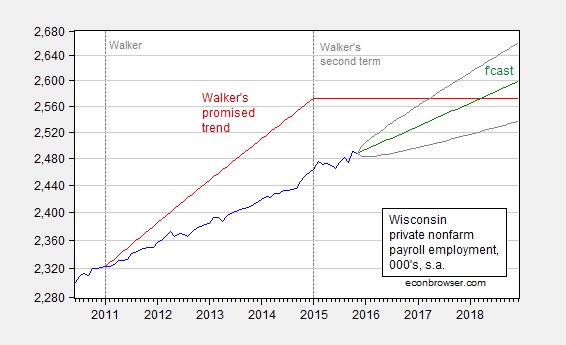 Figure 5: Wisconsin private nonfarm payroll employment (blue), and path promised by Walker in August 2013 (red), forecast from random walk with drift estimated over the 2011M01-2015M11 sample (green), and 90% band (gray). Left scale is logarithmic. Source: BLS, Milwaukee Journal Sentinel, author's calculations.
My midpoint estimates suggest the 250 thousand goal will be achieved by March 2018 (just three years late), with a 90% forecast interval that includes as early as March 2017.