The experiment continues…
From CBS News today:
Brownback took office on a pledge to make Kansas friendlier to business and successfully sought to cut the top personal income tax rate by 29 percent and exempt more than 330,000 farmers and business owners from income taxes. The moves were popular in a Legislature where the GOP holds three-quarters of the seats.

The governor argued that Kansas had to attract more businesses after a "lost decade" in the early 2000s, when private sector employment declined more than 4 percent.

The predicted job growth from business expansions hasn't happened, leaving the state persistently short of money. Since November, tax collections have fallen about $81 million, or 1.9 percent below the current forecast's predictions.
Not only is predicted job growth missing, currently employment is below prior peak. It's hard to argue for long term diverging trends as the explanation, given the long run co-trending of national and Kansas employment. In that context, the recent (since 2011M01) dropoff is remarkable.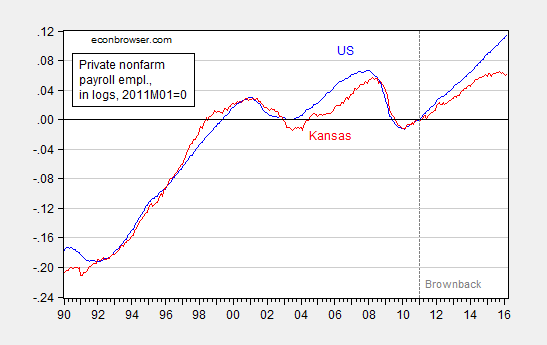 Figure 1: Private nonfarm payroll employment in Kansas (red), in US (blue), in logs normalized to 2011M01=0. Dashed line at 2011M01, Brownback term begins. Source: BLS, author's calculations.
The article continues:
"We're growing weary," said Senate President Susan Wagle, a conservative Republican from Wichita. While GOP legislators still support low income taxes, "we'd prefer to see some real solutions coming from the governor's office," she said.
So even after two more ruinous years, the whistling continues, just with fewer die-hards.
For further context, here's a graph depicting economic performance of some ALEC-darlings (Wisconsin, Kansas ranked at 9 and 27 respectively) and ALEC betes noire (Minnesota, California ranked at 45 and 46).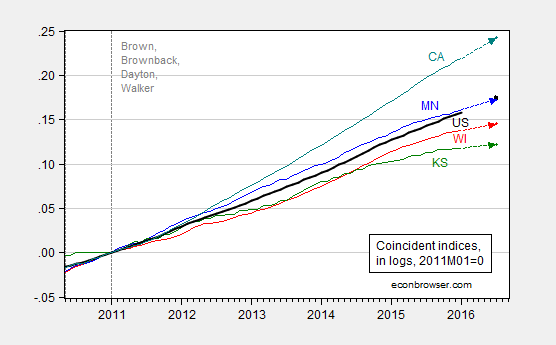 Figure 2: Coincident indices for Minnesota (blue), Wisconsin (red), Kansas (green), California (teal) and US (black), and implied levels from leading indices, all normalized to 2011M01=0. Source: Philadelphia Fed, January 2016 releases, and author's calculations.